Rabbi Alpert named new Melton director
Published: Thursday, 31 July 2014 10:00
Written by Jane Martin, Special to The Chronicle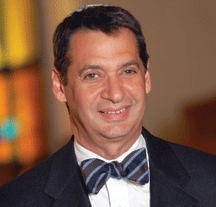 Rabbi Doug Alpert has been named the new Kansas City director of the Florence Melton School for Adult Jewish Learning. Locally the Melton School is a project of the Hyman Brand Hebrew Academy. In addition to his part-time work as director of
the Melton School, Rabbi Alpert will continue his work with Congregation Kol Ami, a non-affiliated, progressive urban congregation.
Rabbi Alpert is particularly well-suited to take on the Melton position, thanks to his passion for continuing Jewish education. He has taught a number of Melton classes over the years, and is an avid lifelong learner himself.
"I have been drawn to Melton particularly for its engaging, text-based curriculum, and the way Melton has been open to the broad spectrum of Jewish thought. The Melton School has been particularly adept at engaging Jews of all backgrounds, affiliations, or non-affiliations. I look forward to sharing my passion for adult Jewish education with continuing and new Melton students," Rabbi Alpert said.
Rabbi Alpert has many plans moving forward.
"Overall, my goal is to create a community of lifelong learners with the understanding that Jewish learning is a vehicle for spiritual growth and creating lives of meaning and purpose, all accomplished within a caring, inclusive community.
"In the short term, my goal is to honor the work of Henri Goettel and other predecessors by ensuring Melton continues on as a wonderful Jewish experience here in Kansas City. I hope to see more students participate in the core curriculum, and see Melton alumni come back for classes over the next several years," Rabbi Alpert said.
"Rabbi Alpert is an exceptional addition to the Melton School, and I have great confidence the program will continue to flourish, providing adults with some of the best lifelong educational opportunities in our area," said Howard M. Haas, HBHA's head of school, which has housed Melton since 2012.
"In addition to his passion for serious adult Jewish learning, Doug knows the K.C. Jewish community very well and is adept at building bridges, enabling Jewish organizations to work together to achieve a common and important goal of increasing Jewish literacy for adults," said Annie Glickman, regional director for the Florence Melton School of Adult Jewish Learning.
Rabbi Alpert will continue to work with an outstanding cohort of Melton instructors. Past instructors have included Marla Brockman, Michal Cahlon, Alan Edelman, Rabbi Dani Rockoff, Rabbi David Glickman, Rabbi Beryl Pador and Rabbi Moti Rieber.
The future of Melton in Kansas City
"Melton has been in a time of transition for the past few years," said Glickman. "Now that we are continuing to build upon these efforts through a consortium model under the auspices of the Hyman Brand Hebrew Academy, our learning community has the opportunity to flourish."
In fact, the new director isn't the only change at Melton in Kansas City: HBHA recently changed its status with the Melton School of Adult Jewish Learning to become a Melton Direct School. This means Melton will continue to provide its excellent curriculum, but will also provide more administrative support to the community, freeing up more time for Rabbi Alpert to recruit new students and structure an educational formula that best meets the needs of students in Kansas City.
"The Melton Corporation is constantly evaluating how to better support local Melton schools in regards to implementing the organizational piece. Having already piloted Melton Direct in other communities nationwide, I am confident that it will be a successful model here as well," said Glickman.
"Kansas City is a pioneer in that Melton is housed at HBHA, a community day school. While many of our synagogues provide adult educational opportunities, there is great potential for HBHA and the synagogues to increase offerings through a collaborative effort."
Said Haas, "The primary focus of HBHA continues to be the education of our Jewish youth. The Melton School simply strengthens the notion that Jewish learning doesn't stop when a child graduates."
"However," Haas continued, "as we work toward our vision of becoming the central address for Jewish education in our community, programs like Melton are creating the space where all congregations can come together in pursuit of a common goal." 
Melton School in Kansas City receives funding from Menorah Legacy Foundation. The Melton School is also supported by Congregation BIAV, Congregation Beth Shalom, HBHA, Village Shalom and a number of individual donors who have pledged to support Melton at HBHA. 
To learn more about upcoming Melton offerings, contact Rabbi Alpert at This email address is being protected from spambots. You need JavaScript enabled to view it..