Showing gratitude to donors, Federation offers thanks
Published: Thursday, 31 July 2014 10:00
Written by Carol Katzman, Special to The Chronicle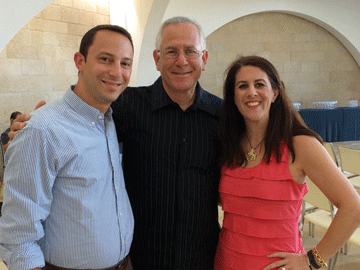 Though the news out of Israel changes day by day, if not hour by hour, the Jewish Federation of Greater Kansas City continues to help. Whether it's repairing damaged homes or shelters, or providing day camp scholarships to bring relief to kids
from cities under siege like Sderot or Ashdod, donors to the 2014 Federation Campaign can be assured that their dollars are making a difference.
"I just returned home from the Campaign Chairs and Directors Mission to Greece and Israel," notes Sarah Beren, 2014 Campaign co-chair with John Isenberg. "I was struck by the amount of good one person's gift can do when combined with so many others."
To honor and show gratitude to the many donors around Kansas City, the Jewish Federation is sponsoring a "Thank You" event, featuring entertainer and speaker Andra London, at 7 p.m. Tuesday, Aug. 12, in the White Theatre at the Jewish Community Campus. The former member of the Jewish pop trio Visions will sing and share her personal story with donors who have made a gift to the 2014 Federation Campaign.
The event is free to attend and reservations are requested via the web at www.jewishkansascity.org/thankyou2014. Doors open at 6:30 p.m.; the inspiring program begins at 7 p.m. Free babysitting at JCC's The Park will be available. For questions or to make a gift to the 2014 campaign, contact Bev Jacobson: 913-327-8108 or This email address is being protected from spambots. You need JavaScript enabled to view it.. 
"My wife, Jenny, and I were in Israel recently," adds Isenberg. "During our week there, we had to seek shelter five times. This meant, within 60 seconds of when we heard sirens, we had to stop what we were doing and seek out a secure room, a stairwell or even hide under a table — as we did in a shop in the marketplace in Jaffa. After five minutes or so, we and the rest of the Israeli population would return to our 'normal' lives."
"As you can imagine, the impact on the lives of the elderly, children, and those with special needs or disabilities is significant," he says.
That's where donations to the Jewish Federation come into play. In addition to annual unrestricted support of the Campaign, funds are also being raised through a separate emergency campaign to provide respite and relief to those in especially hard hit areas south of Tel Aviv all the way to Beersheva. To learn more about making an additional donation to Operation Relief and Respite, visit the Federation's website at: www.jewishkansascity.org/operationrelief
"Each and every gift to the Jewish Federation of Greater Kansas City is meaningful," Beren adds. "The idea of a community campaign is so beautiful — it is the backbone of community building that makes being part of this 3,000-year-old tradition — regardless of one's religious practices —special and important."
She and Derek Gale, financial resource development director at the Jewish Federation, saw firsthand the work of the Jewish Federations of North America and its overseas partners toward "sustaining and protecting children from the brutality of anti-Semitism, teaching families what it means to practice Judaism, and providing subsidized housing and dignity to elderly Jews" during their recent trip.
Sandy Passer, Women's Philanthropy 2014 Campaign co-chair (along with Amanda Palan) agrees.
"A year prior to the escalation of the current conflict in Ukraine, I had a rare opportunity to participate in the Campaign Chairs and Directors Mission in Odessa and Israel."
In the early 20th century, Odessa was home to the second largest Jewish population in Czarist Russia. By 1944, when Odessa was liberated, only 60 Jews were left alive. Today, there are approximately 35,000 Jews there.
"The resurgence would not have been as successful but for the work of the Federation and our partner agencies," Passer explains. "The fellow Jews we visited — in homes, in the Jewish community center, and World ORT schools — gave us an overwhelming thank you for all of our efforts in providing a better life for them." 
For Passer, "It was tremendously humbling to view how our dollars helped to rebuild the Jewish community and revitalize the spirit of the Jews that choose to live in Ukraine. After all, this is their home, just as Kansas City is ours."
Noting the importance of the upcoming donor recognition event, Beren says: "This event is important — it allows us to say 'Thank you!' to each and every person who has given time and money on behalf of every vulnerable Jew this organization helps protect."