NCSY helped teen make meaningful connections and take on leadership roles
Published: Thursday, 31 July 2014 10:00
Written by Barbara Bayer, Editor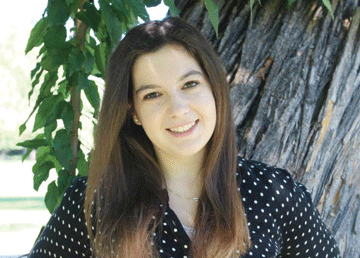 This year marks a monumental milestone for NCSY as it celebrates the 60th anniversary since its founding in 1954 by the Orthodox Union. Through the decades, NCSY has become a treasured part of the Jewish community, inspiring hundreds of
thousands of young Jews to grow in their Judaism no matter what background they come from. Shaina Stasi is one of those young Jews.
Shaina, who will turn 18 in early August just before she begins her freshman year at the University of Kansas, recently completed her term as president of the youth group. Her path to the presidency began as a freshman when a friend, Federico Zepeda, encouraged her to attend JSU (Jewish Student Union) functions at her school, Shawnee Mission East. JSU, also run under the OU umbrella, offers free programs for Jewish students at public schools and Shaina, who graduated from SME in May, attended some with her older sister Melissa.
"It was really fun and I got to meet a lot of Jewish kids," Shaina said. "So every now and then I would also go to the NCSY programs like their Shabbat dinners and onegs because Hillel (Goldstein) the adviser of both JSU and NCSY, invited me."
But it took two other things to really get her hooked on the NCSY organization. One was The Jerusalem Journey, the NCSY-sponsored summer Israel program she went on the summer before her sophomore year of high school. Shaina said that really sparked her interest in NCSY. She also attended a regional NCSY/JSU Shabbaton in Chicago.
"My first Shabbaton was really fun because I met so many people. Everybody was so nice. That's a lot of what NCSY is known for, everybody being so nice and welcoming. I was introduced to a lot of new experiences and perspectives and aspects on Judaism and life that I otherwise had not learned or known, and I thought it was very interesting. So I kept going back," said Shaina, the daughter of Diana (Shalinsky) and Sam Stasi.
The Stasi family belongs to The Temple, Congregation B'nai Jehudah, where Shaina became a Bat Mitzvah and was confirmed. It's somewhat unusual for a teen with a Reform background to start climbing the ranks of an Orthodox youth group. Once she started participating more in NCSY programs, and planning programs, she really started enjoying it.
"It really brought me closer to all the kids and I learned a lot more about how things worked, the rules of the religion and gained responsibility, which was a really cool part of it, too. I was able to be inspired as well as inspire others," Shaina said.
These days, Shaina can't actually pinpoint whether she's a Reform or a traditional Jew, saying "it's a real mix up."
"It's in a big transition stage. I grew up Reform but I joined an Orthodox youth group," she said, explaining that not all NCSY members are Orthodox. "There are kids from all backgrounds but learning all of what they do has helped me decide what I want to do, which is a mix of everything. I can't label it specifically."
Judaism plays a "really big role" in Shaina's life.
"It shaped who I am. I wake up in the morning being thankful for living and I go to bed at night being thankful as well. It's made a difference on everything in between as well because whenever I'm eating, for example, I think this food is going to give me nutrition. That's something to be thankful for. Not everybody has three meals a day. It's like all the little things that I've learned that I can put in perspective on my life. It adds greater detail and great appreciation."
This year was a bit challenging for the local NCSY chapter as it was in-between advisers. Gevura Davis, who stepped in and assisted the group, described Shaina as "an extraordinary young lady who has worked so hard this year to help JSU and NCSY continue as strong institutions of Jewish excellence and exploration in K.C."
"She works tirelessly to include everyone, and believes in the message of 'inspiring the Jewish future.' It's been amazing to watch her blossom into a real leader who is not afraid to take initiative, but also to follow the lead of what people want. I know she will have a strong future as an active member of the K.C. Jewish community," Davis continued. 
Not only does Shaina get a gold star for her work in NCSY, she is hoping to soon earn the Girl Scouts of the USA Gold Award. A Girl Scout since kindergarten this last project consists of collecting cans of tuna for the Jewish Family Services Food Pantry and educating "anyone and everyone interested" in the rules of kashrut. The work for her award must be completed before she begins her freshman year in college. However, she expects to be presented with the actual award in the spring of 2015.
As you can imagine, Shaina said she's "pretty big on volunteering. I really enjoy it." In that vein she has served as a madricha (teaching assistant) at B'nai Jehudah and volunteered in the Alzheimer's Unit at Village Shalom.
In just a few weeks Shaina will be off to the University of Kansas. She got a head start on her college education this past year while she attended both high school and took classes at Johnson County Community College. A member of National Honor Society and an honor roll student at both SME and JCCC, she hopes to be involved with both KU Chabad and KU Hillel in the future. She would also really like to go back to Israel, so she hopes she can secure a spot on KU Hillel's Birthright trip.
"My favorite thing I've ever done with NCSY is going to Israel. It was definitely an eye-opening experience. I also really enjoy being a junior adviser to the younger kids (grades five through eight) in NCSY," she said.
NCSY junior advisers, Shaina explained, perform activities similar to those any "camp counselor or youth group adviser would do. You hang out with the kids, make sure you are giving them all your attention at the time, make sure they are having an awesome time and also make sure they are following the rules and being safe and having fun," she said, noting you create strong bonds with the kids.
"I'm still in touch with mine that I haven't seen in a few months," Shaina said.
She said all of her NCSY experiences have shaped who she has become today.
"It's changed who I am so it will obviously change my future. It will really help me to keep a positive outlook on life, know that everything happens for a reason and hopefully one day I will pass everything I've learned on to my own children and their children as well."
Working with NCSY, Shaina said, helped push her out of her comfort zone.
"I was always reaching outside my comfort zone yet I was still at a safe spot, so I could grow at my own pace. I also enjoy that NCSY is not pushy. They let you do things as you wish and they don't make people believe in things, they just teach you what Judaism teaches so you can decide for yourself what you want to believe in and I think that's really nice."
She is happy this experience led her to make "meaningful connections" with role models and also prepared her to be a role model herself.
"NCSY has given me so much leadership experience. I don't think I honestly could have learned the things that I learned from NCSY in school and that's something that will carry me forward as well," Shaina said.
In the future, she hopes to become an occupational therapist so that she can help people.
"It's a mitzvah in a job, as I put it," she said.