KC Leadership Tomorrow gives summer interns valuable experience while helping nonprofits
Published: Thursday, 24 July 2014 10:00
Written by Barbara Bayer, Editor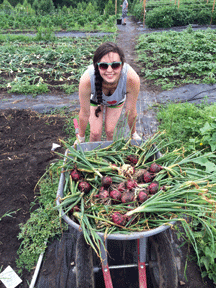 Philanthropist and business owner Irv Robinson knows a good thing when he sees it. What he saw was an internship program operated by a foundation in Boston that gave college students valuable experience and nonprofits an extra set of hands. The co-founder and CEO of Robbie Fantastic Flexibles who also oversees the Robinson Family Foundation, wanted to do something similar here.
The Jewish Federation of Greater Kansas City has had an internship program for many years, and after speaking with its President and CEO Todd Stettner, Robinson learned the program could be ripe for a makeover. Intrigued, Robinson spoke to an assortment of people about how the program worked in the past and could work in the future.
"I got my arms around how effective I thought the current program was and thought there was a whole lot more that I wanted to do to increase the quality, so it took a while to put it all together and that's how it all started," Robinson explained.
Together with friends and fellow philanthropists as well as other Federation officials, they designed an updated internship program known as KC Leadership Tomorrow. The program began June 2 and concludes Aug. 6.
Amy Ravis Furey, the Jewish Federation's outreach and engagement coordinator who oversees the program, explained that KC Leadership Tomorrow provides a 10-week paid internship designed to expose rising college sophomores, juniors and seniors to the world of nonprofit, social service organizations within the Jewish and general communities of Greater Kansas City. 
The goals of this internship program are: 
• Provide a supervised, paid field experience for college students
• Expose students to the field of communal service in both the Jewish and "general" communities through weekly seminars
• Increase the number of leadership roles students assume in the future
• Appreciate the value of having a mentor
• Understand the process of "grantsmanship"
Ten interns were chosen for this summer and they each receive a $2,000 stipend for the internship. This year's interns and the nonprofits they serve are: Max Johnston, Yeshiva University, BIAV; Noah Blank, University of Minnesota, Congregation Beth Torah; Federico Zepeda, Yeshiva University, Harvesters-The Community Food Network; Libby Levin, Kansas State University, JFS Food Pantry; Rae Pfau, Brandeis University, Mitzvah Garden; Emily Kovacs, Johnson County Community College, reStart Inc.; Lauren Katz, University of Kansas, Village Shalom; Avi Sonnenschein, Indiana University, Village Shalom; Eitan Miller, Yeshiva University, Jewish Community Center; Stephanie Glassberg, University of Kansas, Jewish Federation Jewish Family Services. 
Mentors, in addition to Robinson, include Ira Stolzer, John Isenberg, Jeff Alpert, Howard Ellis, Steve Cloud, Bob Cutler, Gary Weinberg, Howard Jacobson and Barbara Unell.
As in the past, Furey reported the interns work four days at the nonprofits and spend every Friday together. This is the first year non-Jewish nonprofits have participated in the program, and they are nonprofits that receive some funding from Jewish foundations. 
The grantsmanship component, an idea Robinson borrowed from the Boston program, is also new this year.
"This foundation granted money to the winners who made the best presentations and had the best non-profit that needed to be funded. I heard about that and I thought, 'Wow that is really awesome. There's so many win-wins in all of this,' " Robinson said.
The Robinson Family Foundation, which provides funds for programs that benefit kids at risk in Kansas City, has given $9,000 to this program to help the interns learn grant-writing skills. Two groups of three and one group of four interns have each been preparing a grant request for an agency that represents youth at risk. After learning about nine different organizations, the groups chose to represent these three:
• Lakemary Center in Paola, Kan. It provides choices and opportunities for persons with special needs to maximize the freedom and control they can bring to their lives.
• Youth Ambassadors, an innovative collaboration of community partners in the Kansas City metropolitan area who, in 2010, joined forces to implement a state-of-the art summer work program for underserved youth.
• Jewish Vocational Service, for a program that primarily serves refugee children and teens who have come to Kansas City.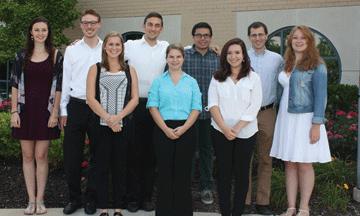 Furey said the groups are working in partnership with these three organizations to complete a request for funding and create a "sales pitch" to earn these funds.
"Whichever group presents the best pitch in the opinion of the advisory committee and the Robinson Family Foundation will win the highest grant for its chosen organization. There's a $5,000 grant, a $2,500 grant and a $1,500 grant that will be awarded based on the team's grant request," Furey explained. 
Individual mentors are also new to the program. Robinson envisioned that not only would the mentors help the interns learn, but it would also give the mentors "a way for them to be philanthropic and help create a successful program financially, but also to be hands on in developing the program."
Furey said the mentors have been instrumental in the success of the expanded internship program.
"They also serve on the advisory council and helped develop the curriculum and the grantsmanship piece."
"They've gone above and beyond and have been incredibly generous to their mentees. I feel like these are relationship that will last for years and the young people are so lucky to have these incredible resources," she continued.
Robinson said the interns have asked some very insightful, and at times challenging, questions. Being a mentor is something he has enjoyed.
"It's awesome. These are really bright, smart kids and one of the benefits of this to us as mentors, and specifically to me, is that it gives you a great sense of optimism about the future of our country and our community. Sometimes we think that since these younger adults have different ways of doing things than we do, that means our future is less good and that's certainly not true. So you come away with a great deal of optimism about our future," he said.
Federico Zepeda, who will be a junior in the fall in Yeshiva University's Sy Syms Business School, found the idea of a combined internship/leadership training program interesting.
"I have been able to speak and learn from leaders in our community, from physicians, to rabbis and CEOs. I have also been able to take what I have gained throughout the Jewish community in K.C. and bring those things to my internship. I feel like an ambassador for the Jewish community every day I go into my internship. I apply the lessons I have learned, the skills I have gained, and my passion to helping others less fortunate than myself," said Zepeda, who plans to make aliyah to Israel after graduation, serve in the IDF and earn an MBA following his service.
Zepeda's supervisor at Harvesters is thrilled to be involved in the intership program.
"We are thankful to the Jewish Federation of Greater Kansas City for connecting us with young leaders such as Federico. This summer he has demonstrated his ability to work both independently and in a group setting, which will serve him well when he enters the workforce after his college years. We were delighted to be selected to host him and appreciate his contributions to our mission of feeding hungry people today and working to end hunger tomorrow," said Guy Bhatt, Harvesters corporate and foundation relations manager.
The program has been a success in Furey's eyes.
"One of the interns has been doing such an incredible job that they want her to come back and fill the role of a woman going on maternity leave," Furey said. 
One reason it's such a win, according to Furey, is that in the nonprofit world there often aren't enough employees to carry the load.
"I've heard some of these projects wouldn't be able to happen without these interns," she said. "They've done things that otherwise wouldn't get done."
Although the program doesn't end until next month, Robinson is already happy with what he has seen and he is thrilled with what he calls the win-wins.
"The kids-at-risk nonprofits win, the interns have these great experiences and learn about the nonprofit world, the nonprofits win because they get an intern to help with their projects and the mentors get to share some of their life experiences with nonprofits and share some of their passions with the interns. There's a lot of potential wins in this program and I think we're making some of those happen, so I feel quite good about where we are at," he said.
But he's not completely satisfied with the program and feels there is still room for improvement.
"The whole vision got created with the idea that we were going to make this a nine or 10 (on a scale of one to 10) experience for both the students and the nonprofits," Robinson said.
"The key was not how many we had in the beginning but the quality of what we are doing and I think we have achieved some of that and I think there's more to be done. I think the program used to be at a three or a four and maybe it's now at a seven. We're learning as we go and I think we've seen a vision for it to be the nine or 10 program we want it to be and a much larger program eventually."