Visitors, residents send K.C. folks messages they are safe
Published: Thursday, 17 July 2014 10:00
Written by Barbara Bayer, Editor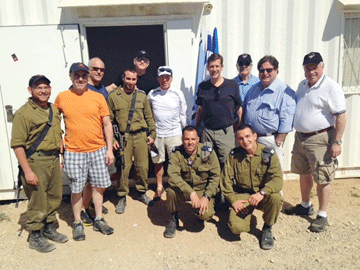 As is always the case this time of year, many members of the Jewish community are currently in Israel or were in Israel when "Operation Protective Edge" was launched by the Israel Defense Forces on July 8 "aimed to retrieve stability to the residents of southern Israel, eliminate Hamas' capabilities and destroy terror infrastructure operating against the State of Israel and its civilians. It appears these American Jews, as
well as those who have made aliyah and now live in Israel, are sending the message that while bombs are being launched from both sides, things remain as normal as possible in Israel and they are all safe.
Not long after the military operation was launched, communal organizations, including the Jewish Federation of Greater Kansas City through the Jewish Federations of North America, all began launching fundraising campaigns. (See more in following story.)
Rabbi Jeffrey Shron of Kehilath Israel Synagogue is currently in Israel. He posted a selfie on Facebook on Sunday of his family in a bomb shelter.
In an email Monday he wrote, "The Israelis are the most courageous and optimistic people in the world. Although they are forced into bomb shelters they never lose hope that one day there will be peace in the land," he wrote. "If only the Palestinian people had the same prayer," said the rabbi who went to Poland and Auschwitz earlier this month and then traveled to Israel to visit his daughter and her family.
"Seems that I went from a place where Jews were targeted in the past to a place where we are targeted in the present. The difference now is we are now in a position to defend ourselves."
Derek Gale and Sarah Beren were in Israel last week and posted their thoughts as eyewitnesses to the situation through the Jewish Federation Facebook page on Thursday, July 10. The reported that soon after they arrived in Tel Aviv from Greece, they practiced how to react very quickly to a warning siren. Indeed they had to go to a shelter at 8 a.m. the following morning. In a joint statement, here's how they reported the experience:
"Please know that this is the new normal in Israel — no one panicked, everyone did what was recommended, and we were all safe.
"As we go about our day, Israelis and visitors are living their daily lives — walking along the beach, going to meetings, having coffee or lunch and enjoying the beauty of life in Tel Aviv.
"We are all keenly aware that rockets may be overhead, but from one moment to the next, life goes on and we are able as usual to focus on being in the moment and on what's next in our day — not on fear or uncertainty.
"We are proud to be here in our homeland standing in solidarity with our people. Imagine the feeling of hearing the siren while visiting Independence Hall — as we went down to the main gallery (which doubles as the shelter room),and a colleague from another city commented on the irony of the situation, Derek responded with these words, 'There's no place I'd rather be.' "
The pair spent four days in Israel as part of a JFNA trip. Beren is co-chair of the Federation's Annual Campaign. Gale is the Federation's financial resource and development director.
Beren and Gale returned to Kansas City on Monday. Gale reported to friends that they visited bomb shelter areas multiple times and "actually saw Israel's Iron Dome defense system intercepting rockets coming toward Tel Aviv. 
Samantha Levine, a member of The Temple, Congregation B'nai Jehudah who will be a KU senior in the fall, is in Israel on IsraeLinks, a summer program sponsored by Chabad on Campus. In an email she wrote seeing the news is scary with the rockets flying and the explosions out of control.
"In contrast to the news, I actually feel very safe here in Israel. Although this is true, a bomb shelter drill is definitely not the same as a tornado drill. You have about a couple minutes or so to rush to the shelter while the sirens sound. It's eerie and gets the adrenaline pumping, but I know that the IDF and the Iron Domes are keeping us all extremely safe," Levine said. (See additional thoughts comparing tornados to seeking shelter from rockets from Celeste Aronoff on Page 19.) 
Hearing sirens has been "a bit unnerving" for Sybil and Barry Kaplan, former Kansas Citians who live in the southern suburb of Arnona, not far from Kibbutz Ramat Rachel, "five minutes by car to Bethlehem. " Sybil has lived a total of 16 years in Israel, 10 in the 1970s and six since 2008 when she and Barry made aliyah. She wrote that each time they have heard the sirens, they stopped quickly. But she has actually heard a "boom, boom, boom."
"Barry heard all three Iron Dome interceptions or hitting the open fields," Sybil Kaplan reported. 
"The irony of it was, on Saturday evening, there were children playing in the park behind our house and, at the same time, looking out another window to a synagogue behind us, the men were gathered Saturday evening for seudat shlisheet and were eating, so the sirens did not bother them," Kaplan wrote to The Chronicle in an email.
She agrees with Netanyahu's current plan.
"He's not trying to wipe out Hamas but deal them a serious blow. And when they send hundreds of rockets to target our civilians intentionally and place their people on roofs as human shields and hide their rockets in mosques, hospitals and schools, and name streets after their murdering terrorists, you can see what value they place on human life. I think the Israel Defense Forces is right on and has to continue until Hamas gets the point!" Kaplan explained.
Alan Edelman and Debbie Sosland-Edelman go to Israel every summer and traveled there earlier this month to attend a wedding. They have been ushered to shelters, heard loud booms and seen "the plumes of smoke where the Iron Dome missiles intercepted the Hamas missiles."
Sosland-Edelman wrote via Facebook, "One of the workers in the shelter asked me if I was American. She said, 'Go back to the U.S. and tell them this is really happening,' as if she thought no one in the U.S really believed this was happening."
She reported on a particularly touching moment at the wedding itself, when the "rabbi interrupted the wedding ceremony to bless the helicopters shuttling soldiers to the Gaza staging area and he prayed for their safe return and peace."
Sosland-Edelman said there were many empty seats at the wedding because many of the couple's friends had been called to reserve duty, "but in classic Israeli style the wedding celebration went on and the dancing was as spirited as it could be."
"We aren't afraid but our prayers for peace are more heartfelt and our love for this country is stronger than ever," she wrote. In other posts on Facebook, Sosland-Edelman urged her friends to continue to support and travel to the Jewish state.
Emotional pleas for peace 
Lara Portnoy lives in Ramat Gan, near Tel Aviv, after making Aliyah in January 2013. Before she officially made Aliya she also went to school there, so she has lived in Israel during previous military operations. She believes this type of escalation with rockets "from Gaza and airstrikes by the IDF seems to be on a two-year cycle, with each round becoming more violent."
"While it is a scary time, ducking into bomb shelters on the way to work and jumping up at 3 a.m. to the wail of sirens would all be worth it if I knew that real peace was around the corner. Unfortunately I feel that, due to spoilers on both sides, this peace is constantly beyond our grasp. I made aliyah because I love Israel, but I am deeply disappointed by, what I feel, is a lack of effort by the government to protect its people from the ongoing cycle of violence," Portnoy wrote via Facebook.
"This cycle will not stop until there is a just and lasting peace. A ceasefire would be nice, but it will not address the root cause of the problem — our unwillingness to accept our share of the responsibility for the humanitarian crisis in Gaza and the continuous building of the settlements. The Palestinians have much to answer for, but the bottom line is that I do not envy the life of the Arab child born in Gaza or the West Bank. In addition, pointing fingers does not help my little cousin's sleep at night. A True peace would," Portnoy continued.
"I will add that I have supported military action in the past, when it seemed to be an immediate necessity in defense of the Israeli people. It's just hard to keep supporting military action when it feels like the root causes are ignored in the long run," Portnoy concluded. 
When asked by The Chronicle how she feels about the current tense situation in Israel, Miriam Erez, who lives in Ketura and went to Israel in 1981, wrote that she couldn't provide the response that many of us in Kansas city want to hear.
"You want to hear my thanks for all of your prayers, and about the 'tidbits' that CNN doesn't pick up: the small and large acts of heroism of the MDA, how our physicians continue to treat Gazans even as they bomb us, and how the IDF warns civilians before an air attack. All those feel-good messages crowding our Facebook feeds, all the ones that describe how diabolical Hamas is and end with '… and we're supposed to make peace with these people?' "
Her view of the situation is not as rosy as many of those Facebook messages have been.
"Both my daughters did their compulsory IDF service during the last episode of our Middle East soap opera, 'Pillar of Defense.' Daughter No. 1 was stationed in Beer Sheva and now attends college in Sderot, where she sat on her back porch during exam week and watched Iron Dome intercept rockets. Daughter No. 2 served on a base near Jerusalem, and here's what she told me the other night:
" 'Ima, the period of amúd anán- [Pillar of Defense — but who even remembers the names anymore?] was my darkest time in the army, not because we were at war, but because I thought to myself, 'What the h_ll am I doing here? Who am I serving? I'm serving an occupation army. It doesn't matter that I'm sitting at a desk. Every one of us who wears this uniform is serving the occupation. We took out Ahmed Jabari, who had a signed agreement in his pocket, and what did we achieve?'
" 'And here we are again, in a rerun. We tore the West Bank to shreds "looking for the perps" [abductors], and we didn't know what was in store? Do American Jews even know what we did to the West Bank post-abduction? How many lives we ruined? And did it bring back those boys? And now we're surprised at this war?' "
Erez continued to write, "Sure, we love to play the 'but they started it' game. They start, we respond … and on and on. So I won't even go there."
Erez believes criticizing Israel isn't a betrayal "any more than showing displeasure when your child misbehaves."
"Supporting Israel uncritically feels good in the short term, but so does feeding your child a diet of candy. I shall not let the right define Zionism: I'll say it loud: I'm a peace-loving Zionist and I'm proud.
"I'm shaking as I write this, but not from fear. I'm shaking with emotion as I plea: Brothers and Sisters, we appreciate your prayers and your cheerleading, but we need you to wake up and press for peace," Erez concluded.