Israeli Scouts to bring high-energy performance to Campus, B'nai Jehudah
Published: Thursday, 17 July 2014 10:00
Written by Barbara Bayer, Editor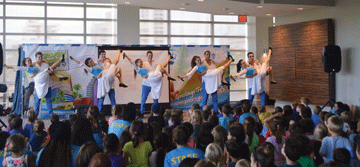 While things in their home country are a little tense, a group of young Israelis will be here to share their talents and their love of their country. On Friday, July 25, the Friendship Caravan Assif will perform at 2 p.m. in the Social Hall of the Jewish Community Campus. The event is free and sponsored by the Jewish Federation and the Jewish Community Center. Reservations are requested, but not required; RSVP at 913-327-8145.
Later that same day, the group of Israeli Scouts will be at the Temple, Congregation B'nai Jehudah for Shabbat services and Shabbat dinner, where families with children in rising grades three through six are encouraged to attend. The community is invited to services; reservations are required for the dinner. For more information contact the B'nai Jehudah office at 913-663-4050.
Shari Farberman, director of the Tzofim Friendship Caravan and Tzofim Summer Delegation, said the Israeli Scouts have performed here often, as recently as last year. This group of teens first performed in the United States on May 27 and will return to Israel on Aug. 13. While they are in the States, they stay with host families.
Farberman said all members of the Tzofim Friendship Caravan are either 16 or 17 years old and all will be entering their senior year of high school in the fall. More than 1,000 teens audition for the touring groups and only 40 are accepted.
This touring performance, founded in 1973, now has four different caravans that travel throughout North America, bringing a vibrant energy and a message of hope and peace for Israel through song and dance. 
"You can expect high energy songs in Yiddish, English and Hebrew as well as Israeli dancing," Farberman said.
Each Caravan is made up of a group of five girls, five boys and two leaders. Performers go through several auditions and are chosen based on their maturity, fluency in English and, of course, their talent in the performing arts. Scouts then spend a year training and rehearsing to ensure that they are able to make a personal connection with their audience and connect the audience emotionally with Israel.
Farberman said the members of the Caravan bring a side of Israel that most Americans do not get to experience.
"They bring fun and energy through their performance, but the time they spend within the community is equally as exciting and meaningful. The connections the Caravan makes can last for years to come. Most Caravan alumni share with me that they stay in touch with their American friends and host families for years to come, and even host them back when they visit Israel. The lasting relationships are so meaningful and genuine, it is really amazing for communities to have this experience," Farberman said.