Joe Hotrod reunion, 40 years in the making, aims to benefit fight against mitochondrial disease
Published: Thursday, 03 July 2014 10:00
Written by Barbara Bayer, Editor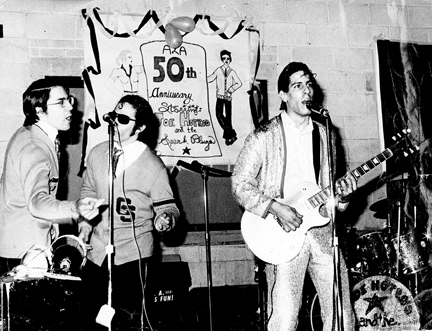 "Friends, friends, friends we will always be. Whether in fair or in dark stormy weather, BBYO will keep us together. …"
This isn't a song Joe Hotrod and the Sparkplugs usually had on the playlist, but it's one the band members, and their fans, remember well. It is perhaps the best way to explain why the band has decided to come together again for a reunion concert.
Joe Hotrod and the Sparkplugs, created in the early '70s and comprised of BBYOers, will gather for the first time in 40 or so years to play on Sunday, July 13, at the 7th Annual "Bowling with Barb," a fundraiser to strike out mitochondrial disease. The event takes place from 2 to 4 p.m. at Ward Parkway Lanes. Barb Mendelsohn, who suffers from the disease, organizes the fundraiser, which has raised more than $75,000 in its first six years.
"What gets me excited about July 13th is everybody that comes will have a great time," said Eric Morgenstern, also known as Joe Hotrod. "The music will be fine, but the environment will be fabulous. You'll see your old friends. You'll get a chance to bowl. You'll get a chance to schmooze. You'll get a chance to dance, to sing along and be a part of this experience. People are going to be smiling and laughing and having a great time."
"And we hope we raise a lot of money to fight mitochondrial disease."
This reunion is definitely about friendships. It turns out the band may have always been more about friendship than it was about the actual music.
"Back then, Joe Hotrod was always about having fun with your friends," said original band member Ron Altman. "Today it's all about being together to support Barb Mendelsohn with her medical research fundraising efforts. The Joe Hotrod reunion just seemed like a perfect way to rekindle old friendships and more importantly, help Barb." 
The band, known as Joe Hotrod for short, is very loosely patterned after Sha Na Na. It played almost exclusively for large BBYO events here and throughout what was then known as the Mo-Kan Region.
"It was not a serious endeavor. We did this intentionally to be fun and perform shtick," Morgenstern recalled. "All of us that were actually musicians had other bands at the time that were more serious bands."
Morgenstern is still known today as Joe Hotrod. But Bruce Wasserstrom, who took on an Elvis Presley-like persona, was then and is now the band's leader.
"Bruce is the front man, Bruce is the lead singer. Bruce is the lead guitarist. It is Bruce's musical passion and skills that really drove the band," Morgenstern said.
Over the years and due to a variety of other commitments, several different guys performed in the band. At one time or another it was comprised of Altman (vocals) Wasserstrom (guitar and vocals); Morgenstern (bass, vocals and occasionally piano); Jerry Fehr (guitar and vocals); Joey Feller (vocals); Ron Fredman (vocals and flutophone); Bruce Greenwald (vocals and photography); Richard Kahn (keyboard); Jeff Krashin (drums); Larry Myer (saxophone); Lee Shalinsky (guitar); and Rabbi Scott White (guitar and bass). Joining the band for this special "Bowling with Barb" performance are Jim Appelbaum (keyboard) and Jeff Daniels (drums).
Several of the original band members are professional musicians today including Kahn, who is a professor of music at Los Angeles Valley College as well as a session pianist. Krashin is a drummer at Cirque de Soleil in Las Vegas and teaches music. Wasserstrom plays in three bands, manages two of them and his "post-retirement day job" involves selling musical instruments and pro audio gear. Music also continues to play a big role in the lives of Shalinsky, Fehr and Rabbi White.
Many are coming in from out-of-town especially for this gig, including Wasserstrom, who moved away after graduating high school in 1975 and has lived in Madison, Wisc., for 29 years; Shalinsky who lives in St. Louis and the Ozarks area; and Greenwald from Austin, Texas. 
The reunion idea came to Altman just before last year's "Bowling with Barb," event and he tossed around the idea with Mendelsohn and others at the event to measure interest. He got enthusiastic responses from everyone he asked. Since the "Bowling with Barb" event is supported by many people who became friends during their BBYO years in the 1970s, it seems liked the perfect time, place and reason to reunite.
The two Ronnies and Wasserstrom were the first to perform together. Frehsmen at the time, it was at a  BBYO new-member convention at Camp Sabra.
"We sang at a talent show where we performed a couple of 1950s-style songs rewritten with camp lyrics. I guess it kind of stuck after that," said Altman. His father, the late Stan Altman, actually suggested the band's name because the name was associated with '50s fast cars.
Once Altman contacted Wasserstrom about the reunion idea it blossomed. Many of them, especially those living in Kansas City, had stayed in contact over the years. Through Facebook and email, Wasserstrom managed to connect with almost everyone who ever played in Joe Hotrod.
The playlist is not quite finalized yet. Altman said they will probably play at least an hour. In preparation for the reunion, those who live in the Kansas City area have actually gotten together for some rehearsals.
"Jerry Fehr has been leading and hosting rehearsals for the band members and arranged for or is personally supplying all the sound gear for the show," Wasserstrom said.
"Our first real rehearsal with all of the members won't actually happen until that Wednesday before the event so we hope people won't be too disappointed. Heck, after they hear the first couple of songs, they may even pay us NOT to play," Altman added.
In Joe Hotrod's "glory days," Altman and Fredman were affectionately referred to by the band as the Fabulous Ronnie Brothers. Turns out they weren't really fantastic singers, according to Morgenstern, and their microphones sometimes weren't even turned on. But, Morgenstern said, "They did a fabulous job of engaging the crowd and creating excitement."
Fredman is counting on recreating that excitement.
"That we are able to reconnect after four decades is a great joy. We're having a ball. My singing is no better, but the fun of being with all of these guys, of striking up the first notes of a familiar song, of letting the years slip away, is grand. I look so forward to putting on the letter sweater again and seeing so many old friends at Bowling with Barb."
For more information regarding registration for "Bowling with Barb," call Mendelsohn at 816-589-1144 or email This email address is being protected from spambots. You need JavaScript enabled to view it.. To make a donation, make checks payable to Children's Hospital of Pittsburgh and mail them to Bowling with Barb, 11510 Ballentine, Overland Park, KS 66210.