104-year-old B'nai Jehudah member credits her longevity to vitamins, staying busy
Published: Thursday, 03 July 2014 10:00
Written by Barbara Bayer, Editor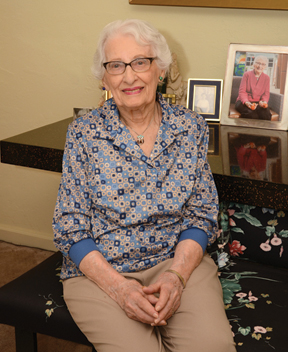 She bounds off the chair to answer the telephone. She drives, sews, exercises, reads and, oh yes, she's 104 years old.
Gertrude Stern was featured in Mission: Your Hometown magazine's July-August issue. She moved to Mission in 1950 and still lives in the Countryside home where she and her late husband Morris raised three children. 
While no one knows if Stern is the oldest resident of the Jewish community, she is the oldest member of The Temple, Congregation B'nai Jehudah. She turned 104 on Feb. 27 and was at B'nai Jehudah that month for her yearly birthday blessing. She and Morris were married by Rabbi Samuel S. Mayerberg in 1933 and officialy joined the Reform congregation a year later.  
In her younger days, she went to services on a regular basis.
"But now that I'm not driving as much it's a problem. I go on the yahrtzeits that come up and my daughter will take me about once a month," she said.
Rabbi Arthur Nemitoff said Stern is a remarkable woman who has the energy of someone two decades younger.
"Gertrude enjoys coming to services at B'nai Jehudah and — although she is very careful — she still drives. I still remember her 100th birthday celebration. That day, she went to the DMV and got her driver's license renewed. Remarkable. Whenever I spend time with her, I am impressed with her determination to stay healthy in body and in spirit. She is a beloved member of the congregation," Rabbi Nemitoff said.
Stern attributes her long, healthy life, to "good, clean living."
"I think God's just been good to me. I've tried to do what was right all my life."
One of the things the centenarian believes contributes to her good health is vitamins. She takes more than two dozen different ones each day. 
"I think taking vitamins is what has kept me going and helped me feel good so I could do what I've done," she said. "In the morning I take about 16 different vitamins, I take about 10 in the evening and before I go to bed I take a couple more."
She can't begin to name all the different vitamins she takes, noting "they are all good for me." Among the vitamins she recommends are B-12 and C, along with Boneology, a calcium supplement, "which is supposed to take care of the bones in the body ...."
Stern said her memory is "pretty good" as well.
"I'm on my feet and I have no problems that way. My hearing isn't perfect but I hear most everything, only the real soft tones is a little hard sometimes."
Over the years she has stayed away from some of the things we now know aren't good for your health. Never a fan of smoking, "I tried it, I didn't like it," she has been known to have a drink or two every now and again.
She eats right, too, although she doesn't cook much anymore.
"I like a good steak," she said. "I like vegetables. I have a lot of those at home."
Stern keeps herself busy during the week. Twice a week she goes to an exercise class offered by the Heritage Center at the Jewish Community Center.
"It's cardio — we exercise the arms, the legs, every part of the body …."
A cab picks her up in the morning and takes her home after lunch.
"They have a nice lunch for $5 and it's $2 each way for the cab so it's $9 every time I go. You can't beat that."
She's also still active in a sewing group she's belonged to for about 20 years at Village Presbyterian Church. The group makes items patients in hospitals and nursing homes need such as pillows and eyeglass cases. 
Sewing, of course, requires good eyesight. Stern said, "I've had cataracts from both eyes removed but my eyesight is good."
"The only thing with being as old as I am is my body is stiff and sore all the time, but I push."
She goes to the Heritage Center and volunteers because she's always enjoyed being around people.
"Before I started with the sewing group I volunteered for about 40 years with Red Cross. They had a production department that also made things for the hospitals and nursing homes."
When she needs to make a quick trip close to home, she drives herself. For longer trips she relies on rides. Often her daughter-in-law takes her to the church's sewing club.
You'd think all this activity would be tiring for Stern. She takes a nap every afternoon, "I can't make it through the day if I don't," but not for that reason.
"I just don't sleep too well at night."
Stern said she has considered moving to a retirement community.
"Then I decided I'm still kicking. I'm not going to one yet."
For now Stern will take a little of her own advice.
"May you live as long as you want and never want as long as you live."