The fourth Topsy Turvy bus tour stops in Kansas City
Published: Thursday, 03 July 2014 10:00
Written by Amy Hannes, Special to The Chronicle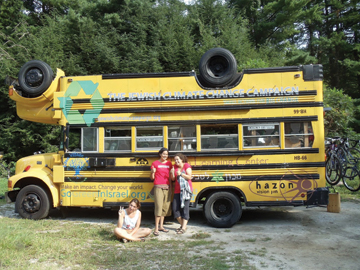 Hazon's mobile educational spectacle, the Topsy Turvey Bus, is traveling from Denver to Connecticut while teaching communities how to rethink cycles of food, energy and time. The Topsy Turvy Bus will be in the Kansas City area Sunday and Monday July 6 –7. Community members can see it along the route of the Tour de Farm bike ride (See below for details.) Join the ride or come meet the educators and see the bus at one of the rest stops! 
The Topsy Turvy Bus (so named in honor of the donation from Ben Cohen of Ben & Jerry's Ice Cream that made this mobile educational spectacle possible) began its cross-country tour Sunday, June 29, and continues through Aug. 4. It is a bio-fueled environmental schoolhouse on wheels that is driven and staffed by Teva educators. Teva — a program of Hazon and North America's leading Jewish environmental education program — provides pluralistic outdoor, food and environmental education experiences throughout the Jewish community. Teva works with Jewish day schools, congregational schools, community centers, synagogues, camps and youth groups. 
Besides making stops in Kansas and Missouri, the bus will travel to Illinois, Pennsylvania, New Jersey, New York and Massachusetts. During the tour, Teva educators will show people around the veggie oil-fueled bus, share their knowledge about all things environmental and Jewish, and engage participants to feel empowered to make changes in their everyday lives.
This year's tour is the bus's fourth expedition, and in preparation for the upcoming Shmita year (beginning this September, on Rosh Hashanah 5775), the Topsy Turvy Bus Tour will engage communities across the country in thinking, learning and teaching about Shmita and the various cycles that govern and impact our lives. 
Commonly translated as the "Sabbatical Year," Shmita literally means "release." Of biblical origin, this is the final year of a shared calendar cycle, when land is left fallow, debts are forgiven, and a host of other agricultural and economic adjustments are made to ensure the maintenance of an equitable, just and healthy society. The questions about how Shmita actually worked — if it actually worked — are enormous. The possibilities for social change are thrilling.
The Teva educators on the tour will share Shmita-inspired concepts of leadership, commitment to change, and the power of the individual — all integrated with Jewish ideas as they relate to time, energy, and the environment.
"The kids thought the bus and solar oven were 'really cool.' I loved how easily and casually Jewish content was inserted into the environmental message," said a Jewish educator from a stop on the last tour. "The staff was able to adjust the information and activities to our youngest as well as our oldest kids. They were incredible!"
At each stop on the Shmita tour this summer, Teva educators will run programs focused around energy, environmental problem solving, social justice and Jewish values. Program participants will watch an interactive theater-piece, make smoothies on a bicycle-powered blender, assist worms in turning old food into new soil, and learn first-hand about and on a unique bio-fueled bus. 
Teva is a program of Hazon. The word hazon means vision. The organization works to create a healthier and more sustainable Jewish community, and a healthier and more sustainable world for all. For more information about the Topsy Turvy Bus Tour — and about other Hazon programs — visit hazon.org.
Tour de Farm benefit bike ride set for Sunday
Mitzvah Garden KC is having its first ever bike ride on Sunday, July 6. The Tour de Farm is a casual bike ride of less than 15 miles that all ages and levels of experience can enjoy. The ride begins and ends at the Mitzvah Garden, located on the property of the Temple, Congregation B'nai Jehudah, and will include stops at Gezer Park and Franklin Park.
Riders will gather at 8 a.m. in B'nai Jehudah's parking lot. The ride begins at approximately 8:30 a.m.
Other highlights of Tour de Farm include:
A visit from Hazon's Topsy Turvy bus at Gezer Park, a bus completely run by recycled vegetable oil
A tour of the Mitzvah Garden and all its fresh produce
Samples of produce grown in the garden
Impromptu educational tidbits about the garden given by the founders
You'll even learn about how Judaism and gardening can sometimes intertwine
To register, email This email address is being protected from spambots. You need JavaScript enabled to view it., or simply show up the day of the ride. The casual, unsponsored ride is completely donation based; suggested donation is $18 per person. 
Fifty percent of donations will go directly to the Mitzvah Garden, the other 50 percent will be help fundraising efforts for Kansas Citians participating in the Arava Institute and Hazon Israel Ride — a five-day bike ride that explores the beauty and sights of Israel from the seat of a bike.
For more information visit http://hazon.org/israel-ride/arava-institute-hazon-israel-ride/.