Fellowship to Ethiopia fuels woman's passion for clean water
Published: Thursday, 26 June 2014 10:00
Written by Barbara Bayer, Editor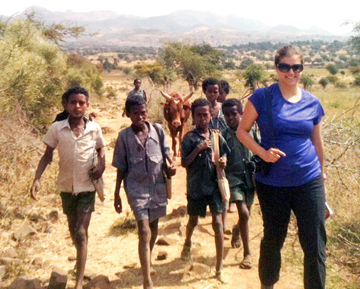 Have you ever stopped to think just how often we use clean, running water? It's not something Maggie Fried thought much about until she accepted a position in the JDC Entwine Global Jewish Service Corps.
The Global Jewish Service Corps (JSC) is a year-long opportunity for Jewish young professionals to work overseas with JDC, the world's leading Jewish humanitarian organization. Responding to international Jewish and humanitarian needs, JSC fellows facilitate and create innovative programs using their unique skills and talents. Currently fellows are serving in locations like Argentina, China, Estonia, Ethiopia, Germany, Haiti, India, Israel, Latvia, Poland, Rwanda, Turkey and Ukraine.
Fried asked to be assigned to a developing country, assuming it would be difficult. Her assignment: Ethiopia.
JDC began working in Ethiopia in 1983, striving to advance the health and well-being of those living in the Gondar region. Providing critical services, including medical care under the supervision of Dr. Rick Hodes, JDC's medical director in Ethiopia for more than two decades, JDC met the needs both in Gondar and in Addis Ababa of the successive waves of Ethiopians who have immigrated to Israel over the past 30 years.
Today in Ethiopia, JDC does a variety of things including digging potable water wells, building primary schools and providing vocational training and university scholarships for women. JDC's medical program, directed by Dr. Hodes, continues to provide life-altering treatment to young people, particularly patients suffering from spinal deformities and those who need heart surgery or treatment for Hodgkin¹s disease. (Learn more at http://www.jdc.org/where-we-work/africa/ethiopia.html.)
The 26-year-old chose a developing country because she "wanted to gain some first-hand experience and understanding of what people in developing countries need in terms of humanitarian aid and also how international aid works."
Having lived abroad before, this was the first time Fried lived in a developing country. But this is something she has been interested in for quite some time. She earned a master's degree in global politics and global civil society from the London School of Economics and Political Science. As an undergrad she double-majored at Colgate University, earning Bachelor of Arts degrees in history as well as peace and conflict studies.
While she's always had an interest in humanitarian work, Fried's first job after college was working for the American Jewish Committee in New York, where she gained a lot of leadership experience.
"This fellowship was a good intersection of the work I had been doing in the past, which was community building, and humanitarian work, which is what I wanted to do moving forward," she said.
The lack of clean water in Ethiopia made such an impression on Fried that she is now forging a campaign to raise money to build a well in Ethiopia.
"Water is such a basic need," she said.
"The water would turn off a lot in the house I lived in and you'd think it wouldn't be a big deal, but you don't realize how much you use it for everything and I wasn't even drinking that water," she continued.
"It is so mind boggling that it is 2014 and we have all these technological advances in the United States and people don't have access to clean water. There are actually 800 million people in the world that don't have access to clean water."
It takes about $3,500 for JDC to build one well in Ethiopia.
"One well can impact thousands of people. JDC really does a good job of making sure that the well is built well, is really effective and the community really knows how to take care of it and use it."
Fried believes that even if the other projects she worked on don't end up continuing long term, building a well is something that can make a "really big impact long term."
"Women and kids have to walk every day to get water, sometimes for hours there and back. That means they can't be with their families. These kids can't go to school."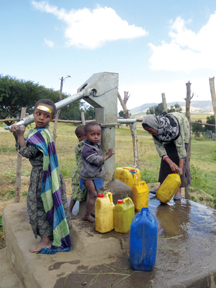 "If there's no well and they are just getting water from a river, that water isn't clean and it's going to give people intestinal parasites," she continued. "We can easily cure that here with one antibiotic, but intestinal parasites kill many people. When you don't have water you can't bathe and wash your hands and that leads to more problems with hygiene and sanitation. So having a well is really a life changer."
Fried hopes readers of her blog, http://aferenjiingonder.wordpress.com/, and members of the Kansas City Jewish community will support this project.
"I think it would be really cool to have a JDC well in Ethiopia that's funded by the Jewish community of Kansas City," she said. "I hope people who are able will check their water bill and see what they spend every month on water and give that amount. We spend a lot on water."
You can learn more about why clean water is so important to Fried, and make a donation to this project at http://jdcentwine.org/water. Checks, made payable to JDC, may also be mailed to JDC-Clean Water in Ethiopia, P.O. Box 4124, New York, NY 10163.
Based in Gondar, Fried actually had three main jobs as a JDC fellow — visiting well sites in rural areas, teaching and assisting medical personnel.
"We would go to these well sites, that were either under construction or finished, talk to community members there about how the well had impacted their life and find out how it was working in the community," she explained.
After Fried was in Ethiopia for a while, she began interviewing the kids about their sanitation habits, asking such things as how often they washed their hands and what they did when they used a latrine.
"A lot of the doctors pointed out that 90 percent of the cases they saw were due to poor sanitation and hygiene and requested JDC consider putting together an educational program about that," she said.
One of the things she learned was how difficult it is for people because they don't have things such as clean water or even a nearby latrine, meaning they had to "just go out in the open."
The fellows in Ethiopia often relied on translators to help them conduct conversations and interviews.
"I learned some Amharic, but not enough," she said. "I could say little things like come here or you're finished now, but I couldn't conduct a whole interview."
Three days a week Fried, who had no formal teacher training, taught ninth-grade English at a public school. The average class size was 70 students and the students ranged in age from 12 to 40, but most were 14 and 15. The focus was on conversational English.
She said sometimes teaching was rewarding, such as when she noticed her students' English improving. But with such large classrooms she was also frustrated by discipline issues. Even though her classes were large, there's a high percentage of kids in Ethiopia who don't attend school at all because they need to help their parents around the house or by working as shoe shiners or in the fields.
JDC also has a health outreach program in which doctors from Gondar University Hospital go to schools in rural areas and provide free medical care to sick children.
"This is really innovative because a lot of these areas have very limited or no access to health care. If they were going to go to Gondar to see a doctor, they would have to walk to get there," said Fried, who explained it took an hour or so to get to these areas by car.
"So imagine walking that."
On these visits Fried would assist the doctors in a variety of ways such as giving out medicine or giving the kids stickers whenever the exam was completed. She took 6,000 stickers with her to Ethiopia.
One of her goals for this fellowship was to get to know the community and by doing so start a community project that they could "buy into." She chose to revitalize a support group for women with health issues that met every other week.
"They would make toys for the children in the malnutrition ward at the hospital," said Fried. Through this project they learned that "using these toys was a really successful way to improve the kids' developmental and cognitive abilities while they were in the hospital."
Fried got the program back up and running again and acted as the coordinator. She left Gondar at the end of April and the program is still going strong without her leadership.
Along with a Peace Corps worker in Gondar, Fried also started a girls' empowerment club.