YU Interns take Lox & Learn on the road to the Mitzvah Garden
Published: Thursday, 19 June 2014 10:00
Written by Carol Katzman, Special to The Chronicle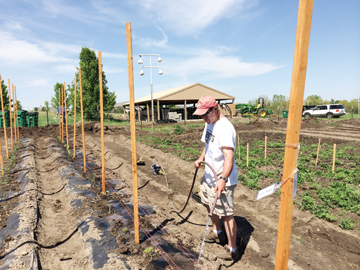 In addition to being called Chag Matan Torah — festival of receiving the Torah — Shavuot is also known as Z'man HaBikkurim, the time of the first fruits. So to the Yeshiva University interns here in Kansas City this month, it seemed fitting to take their "Lox & Learn" Sunday breakfast program on the road to the Mitzvah Garden KC, located on the grounds of The Temple, Congregation B'nai Jehudah.
"I am excited to have the opportunity to run a joint learning-service program with the Mitzvah Garden," said BIAV's Rabbi Dani Rockoff. "What the Mitzvah Garden does is special. It will also be a unique learning opportunity with the summer interns from Yeshiva University, and I'm sure they will gain a great deal from the experience as well."
The six interns will offer study of Jewish texts related to the Torah's instructions regarding the land, planting, harvesting and offerings to the needy from 9:30 a.m. to noon this Sunday, June 22, following a kosher breakfast nosh. The three young men and three young women are the fifth group of YU students participating in Congregation Beth Israel Abraham & Voliner's summer internship program. This year's YU interns include Stern College for Women students Hadassah Tirschwell, Rebecca Saragossi and Danielle Orenshein, and Yeshiva College students Michael Belote, Gabriel Elyaszadeh and Shaul Yaakov Morrison.
"Tour the Mitzvah Garden to see what's blooming and growing, and learn the role the garden plays in our community," said BIAV's Lisa Bernard, who organized this joint event. "Come prepared to get dirty. Wear sunscreen and don't forget your hat. Bring water bottles. This program will happen rain or shine!"
"We are excited to discuss the mitzvot related to agriculture and charity, such as leket — the mitzvah of gathering crops to distribute to the poor — with the community," explained Hadassah Tirshwell, the interns' group coordinator. "The opportunity to pair learning with active participation at the Mitzvah Garden is one which we hope will be enjoyable for all."
The Mitzvah Garden has evolved from its start 15 years ago at Village Shalom of 640 square feet to its current size of 21,640 square feet, including the larger garden on the grounds of Congregation B'nai Jehudah.
Due to the synergy among Ken Sonnenschein, Larry Lehman and Andrew Kaplan and the myriad of volunteers who keep it going, the Mitzvah Garden has been able to donate 6,000 to 8,000 pounds of produce for each of the past four years to various food pantries and kitchens. This currently includes Jewish Family Services, Grandview Assistance Program, Blue Valley Multiservice Center and Hope House. Thanks to multiple benefactors, the Mitzvah Garden has been able to expand to including an innovative rainwater collection and drip irrigation system, three beehives and now an orchard. 
"As our motto says, it takes a garden to grow a community," Sonnenschein said in an article published by The Chronicle in 2011. The article went on to say that: "The goal of the Mitzvah Garden KC is to provide healthy food alternatives to those less fortunate in the community; to create a sense of community among the Jewish congregations of Kansas City; develop a self-sustainable and long-living charitable program for all ages; and to create an experiential learning environment for both religious and secular studies."
There is no age limit for the program; kids and adults are welcome to attend and there is no cost, but RSVPs would be appreciated by calling BIAV at 913-341-2444. To receive emails from the Mitzvah Garden, contact This email address is being protected from spambots. You need JavaScript enabled to view it..