KosherFest brings together lovers of Jewish food and culture
Published: Thursday, 29 May 2014 11:00
Written by Barbara Bayer, Editor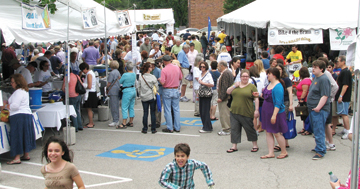 Where can you find cheese blintzes, challah, stuffed cabbage rolls, knishes, tabouli and an authentic egg cream all in one spot on Sunday, June 1? Ohev Sholom's KosherFest: Kansas City's Celebration of Jewish Food, Fitness & Fun. (Details may be found below.) 
This is the Conservative congregation's fifth KosherFest. The first two were held just a year apart, in 2007 and 2008. The event became a bi-annual event in 2010. This year Kelly Jackson is serving as the overall chair. Donna Oberstein is chairing the food committee along with Ruth Roth.
Several things are new to the event this year, including the addition of fitness and fun to the event's name. For the first time, the first 100 children ages 5 to 12 will receive a brightly colored children's pedometer.
As part of the fitness theme, Jackson said health screenings have also been added to the agenda. A chiropractor will conduct spinal screenings, nurses will do both blood pressure and glucose readings.
The children's area has been expanded from years' past. The Flo Harris Children's Activities Area, organized by Civia White, will include a bounce house, active games, face painting and Nia dancing for families, led by Marcelle Rudnick. 
A gardening re-potting project, sponsored by Kansas City Community Gardens, will let young and old alike re-pot basil plants and take them home. 
A community art project, in response to the tragedies at the Jewish Community Campus and Village Shalom, has also been arranged Jackson said. Individuals, or parents with their children will be able to express their feelings on a 9x9-inch piece of canvass. That project is being coordinated by Barb Jacobs.
"They may choose to draw, write or paint on the canvass," Jackson said. The theme of the projects is a quote from Martin Luther King: "Darkness cannot drive out darkness: only light can do that. Hate cannot drive out hate: only love can do that."
Following KosherFest, Jackson said organizers hope other community churches and synagogues will add to the piece of art.
"What we are hoping to get together with other community churches and synagogues will contribute art using the same theme. Eventually each piece of art will be connected into a larger installation. 
Plans have not been finalized as to what will happen with the installation once it is complete. 
"The thought is there might be some sort of ceremony on the anniversary of this tragedy and this could be displayed there," Jackson said. Other possibilities are for the piece of art to be displayed at such places as the Jewish Community Center, Village Shalom, Church of the Resurrection and St. Peter's Parish. 
"We hope the program will ignite a positive response to this from the entire community and it will help find ways for our community to bring more peace, caring and acceptance to our community," Jackson said.
As in the past synagogue tours will be conducted, live music will be playing on the Louis and Frances Swinken Supporting Foundation Stage and a shuk, including a Second Hand Rose shop will feature new and gently used treasures.
Building on the 2012 theme "kiuum ha'adamah — sustaining the earth," a "Green Street" will feature sustainable businesses and nonprofits.
Jackson said the event is part community builder, part fundraiser. She said the recent shooting shows why these events are needed in the community.
"The more you can show diversity in a positive way, the better off the community is. The more integrated the community is, the more they are excited about diversity," she explained.
KosherFest is also important within the Jewish community.
"There are a lot of grandparents who want to introduce the ethnic foods to their children, who don't get them at home anymore. The same can be said about the Israeli music that will be playing," Jackson continued.
Jackson said the thing she finds most extraordinary about the festival is the amount of volunteers that come from the congregation and in the community.
"We probably have close to 200 volunteers and between volunteering and giving financially I would guess 75 percent of the congregation's members participate. It's an extremely high number," she said.
Food glorious food
This year a Taste of Israel booth will feature items prepared by Barry Brooks, an executive chef who is the son of longtime Ohev member Carol Brooks. Brooks has an extensive food background, which includes owning his own catering business, and research and development for well-known food corporations like McDonalds and T.G.I. Fridays. He ran a chain of Mideastern restaurants in the Chicago area and now is the executive chef for The Chesapeake Spice Company. He will demonstrate different variation on hummus.
In addition to Chef Barry's offerings, volunteers have been cooking for KosherFest for months. New this year is a chicken shwarma. The menu also includes stuffed cabbage rolls; savory meat knish; beef kefta; Chef Barry's tabouli, hummus and chug; whole roasted rosemary chicken; Shirley Pener's sweet dairy kugel and bobka; classic potato knish; sweet cheese blintzes; challah; hot dogs; egg creams; hamburgers; mandelbrot; almond macaroons; hamantaschen; rugelach, strudel and almond horns.
All the food is kosher and under the supervision of Ohev's Rabbi Scott White. The meat grill at KosherFest will be supervised by the Vaad HaKashruth and will include smoked drumsticks. Elaine Friedman's challah will be for sale at the To Go booth and it is also Vaad-supervised.
The deadline to order pre-packaged take-out items has passed. There will be take-out items for sale the day of the event. 
"If you missed the pre-sale deadline, there is still a substantial variety of foods available at the To Go booth," Oberstein said.
Leftovers from the event may be purchased from noon to 5 p.m. June 2 at Ohev.
Oberstein suggests getting to the festival early, especially if you are a fan of certain kosher delicacies.
"We tend to sell out of our meat and potato knishes. Blintzes are always popular, even though you can find them in every grocery. Nira Solomon is making our baklava, her day job is kindergarten teacher at HBHA and she is an extraordinary Israeli cook. Shirley Pener has been making extraordinary dairy kugels and bobka for decades now. People know her kugel and she doesn't share the recipe — it's that good," Oberstein said.
KosherFest plans to change its food service areas a bit this year. For the first time it will be cafeteria style in four different tents. Food prices range from $1 for a bag of cookies to $8 for a beef kabob plate.
As happened in 2012, June 1 is a popular date for events in the Jewish community. Oberstein said it's possible to enjoy several events in one day.
"Hopefully people will come out early so they can enjoy all the activities in the area," she said.
The name sponsors of KosherFest include non-profits Harvesters and Kansas City Community Gardens as well as ANB Bank, King Louis America, TransAm and Asner Iron & Metal
KosherFest 2014 schedule
Sunday, June 1
11 a.m. to 5 p.m. at Congregation Ohev Sholom
75th and Nall, Prairie Village, Kan.
Admission is $2 per person or two cans of food per person. Five cans of food admits an entire family. All food will be donated to Harvesters: The Community Food Network.
Louis and Frances Swinken Supporting Foundation Stage
11 a.m. to 12:15 p.m. — Musicians of Kinnor Philharmonic Orchestra
12:15 p.m. — KosherFest announcements
12:30 - 1:15 p.m. — Oy Tate!
1:30 – 2:15 p.m. — Tikvah Dancers
2:40 – 3:10 p.m. — Executive Chef Barry Brooks will demonstrate variations on hummus
3:30- 5:00: Tizmoret Orchestra
Flo Harris Children's Activities Area
Nia Dancing (for families with young children) at 11:30 – 11:50 a.m.; noon – 12:20 p.m. and 12:30 – 12:50 p.m.
Kansas City Community Gardens Take Home Garden Project (open to all ages) and bounce house, games, face painting and juggling demonstration.
Two 20-minutes synagogue tours will take place at 1 and 3 p.m. Meet at front entrance to the synagogue.
Parking is available on the surrounding residential streets as well as the Masonic Lodge and the Asbury Methodist Church.