Rabbi enjoys challenge, providing religious support for Jewish soldiers
Published: Thursday, 15 May 2014 10:00
Written by Marcia Montgomery, Community Editor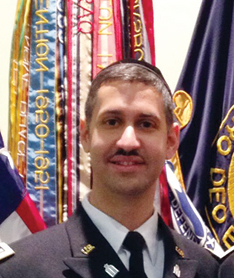 How does a man who has been a rabbi in Tel Aviv and Kobe, Japan, end up as a chaplain at Fort Riley, Kan.?
For 28-year-old Rabbi David Gingold, the road has not been an easy one — and he still faces challenges.
The rabbi is in his first stint as an Army chaplain, and was stationed at Fort Riley in December 2013. His yellow brick road to Kansas included stops in Israel and Japan.
While studying in Tel Aviv, Rabbi Gingold met and married his Israeli wife, teacher/journalist Nili Bar-Oz. A year later, he earned his smicha (ordination) at age 22, then attended Shirat Devorah, a prestigious yeshiva. He also worked as the rabbi of the Chevrat HaShas Synagogue, the oldest synagogue in Tel Aviv.
"My wife was very insistent that before the kids got too old she wanted to go to some Diaspora community and do some work that not everyone is willing to do," the rabbi said.
After interviewing different communities, he said they believed Japan would be where they were best suited. However, they soon discovered that Japan is a hard place to raise Jewish children.
So as he prepared to sign a contract for a third year in Kobe, he informed the community that he would also be searching for another position. He and his wife hoped it would be a place where there was a Jewish school.
As he began his search, his cousin asked if he would be willing to join the Air Force. Rabbi Gingold wasn't really interested, but his cousin persisted.
"I told him I haven't lived in the states since I was 16 years old and I was pretty sure there were plenty of people there who were more qualified to be rabbis in the military. His answer to that was, 'Do you see any of them signing up?' "
So he and his wife decided to apply, but the Air Force didn't have any chaplain positions available.
He spoke to a fellow Chabad rabbi who runs Chabad's Military Outreach Branch called Aleph, telling him since the Air Force didn't need him and he wasn't interested in the Navy, maybe it was time to let the idea of becoming a military chaplain die.
He was met with a long spiel about why he should join the Army. So he promised to at least speak to an Army recruiter.
He did, and within six months he was in.
"Keep in mind I was the only rabbi coming on active duty in the last five years, and we have no one who seems to be doing it in the near future," he said.
In order to serve in the Army as a chaplain, you have to have a bachelor's degree, a master's degree — specifically in religious studies — and a little less than two years of ministry experience. Plus, because of the separation of church and state, the military cannot determine that you are a member of the clergy. So you need an Ecclesiastical Endorsement, which means the endorsing agency tells the military whether or not you are recognized as a clergyman. Due to the high level of education and work experience, chaplains enter the military at the rank of lieutenant or captain ─ a direct commission. Rabbi Gingold entered the Army as a first lieutenant.
He's been at Fort Riley since December 2013. More than 100 Jews are stationed there, which is considered sizeable for a military installation. But it was just a fluke that he ended up there.
"There hasn't been a rabbi at Fort Riley in 25 years and this has not been one of the installations on the rotation for a long time," Rabbi Gingold explained. "The reason that changed is because Fort Riley is one of those installations that belongs to a division, the First Infantry Division, and (they are) currently doing a lot of stuff overseas, including a lot in Afghanistan.
"So that being the case, they kind of said, hey, if there's another rabbi coming on active duty, we should get him."
Dual Roles
Rabbi Gingold fulfills two roles at Fort Riley — that of rabbi and of chaplain. This may seem redundant, but really isn't. He said he spends half his week (Monday through Thursday morning) as a chaplain, working with military police and emergency services on post. Thursday afternoons through Sunday, he's the rabbi, leading the Jewish congregation in services and taking care of all their needs.
A chaplain will be put in charge of a battalion, with anywhere from 800 to 1,600 soldiers, to provide confidential guidance and help that mental health professionals can't necessarily provide.
Rabbi Gingold said there are currently just 12 rabbis (10 Orthodox, two Reform) on active duty in the Army. Two of them will go into active reserves this year. If you count soldiers, Department of Army civilians and dependents that are Jewish, there are around 50,000 out of 550,000 people in the active military, which is a lot of people for so few rabbis.
Thus rabbis and priests get rotated on average every two years, as opposed to every four years for Protestant chaplains, both inside and outside of the United States.
"It's a complicated job; it's not a comfortable rabbi's job where you build something up over a long period of time," he said. "It's work very fast to try your absolute hardest to build things up quickly, build rapport quickly with people. Then on top of that, you have to do this while you're doing another job at the same time." 
The hardest part of the military, for him, is completing the tons of paperwork required. He said the good part of being a rabbi in the military is, for example, the warm feeling you get when you do a Purim service where you read the Megillah to some who have not heard it in 15 years.
"In general, rabbis in the Army, most of our successful work is the informal, where we'll have a soldier over to the house for Shabbat or we'll have a time when someone will say 'can you meet me once every other week so we can study' or 'can I talk to you about my spiritual development,' " Rabbi Gingold said.
"So that's how I look at religious support for Jewish soldiers in the Army — being a rabbi for them on a day-to-day basis and running (religious) services for them on a monthly basis. I think this is a lot more profound than trying to run a service all the time because ultimately … they need a relationship with the rabbi."
Rabbi Gingold counsels men and women returning from Iraq and Afghanistan as well, both as a rabbi and a chaplain. But there's the spiritual side and the counseling side. Many times a Jewish soldier's problem will have a mental aspect or psychological aspect to it, but he or she will talk to Rabbi Gingold in his capacity as rabbi.
As a military chaplain, however, both Jews and non-Jews come to Rabbi Gingold for help.
"I do a lot of counseling about stress, post combat, family issues, people who have taken to coping through substance abuse because they don't necessarily have PTSD, but have issues that they need to work through and don't want to work through," the rabbi said.
"A lot of it is just life stuff. Soldiers are humans too and their parents die or they have some sort of hardship in their lives or their wife is cheating on them and they need someone to talk to about that."
Present and Future
If Rabbi Gingold decides to stay in the Army as a reservist, he knows there are just a handful of bases he could be sent to: Fort Lewis, near the Seattle-Tacoma area; Fort Hood, Texas; Fort Bragg, N.C.; Fort Benning or Fort Stewart in Georgia; South Korea; or Ramstein, Germany.
However, he says he is far from deciding at this time whether he will stay in or not.
"My active (duty) commitment is another two years. At the end of those two years I have to decide do I want to stay or go," he said. "Do I want to go to the reserves and then select whatever state it is that I think I would like to live and where I think my kids will enjoy a half good education; do I even want to stay in the states?"
The Gingolds have two children: Noyah, 6, and Bat-Shevah, 3. Although one of the things on his wish list is a Jewish school for his children, the nearest one is in Overland Park. So he homeschools his oldest daughter in Judaic studies and she also attends the public school on base.
Rabbi Gingold is trained as a scribe and occasionally checks people's mezuzahs. But it took him three weeks to do four of them, so he can't spend much time on this type of work.
"That frustrates me because I am currently studying to be a religious judge for the rabbinical court," he said. "So on top of everything else I do, … I'm also trying to study for an advanced degree. It's hard, but I manage. It's hard to start your day at 5:30 in the morning to go for a long run and then come back and get your kids ready for school and then you have an hour to pray and study in the morning before you go to work.
"It's a challenge, but at the same time I honestly feel it's needed. If I didn't feel it was needed, I wouldn't be doing it. I know that there are plenty of other jobs for experienced rabbis in other places. No one is forcing me to do this; it's of my own free will, so as I do it I remember that."