Beth Torah's religious school, youth groups director retiring after long career in Jewish education
Parent Category: News
Category: Latest News
Published: Thursday, 08 May 2014 11:00
Written by Barbara Bayer, Editor
Hits: 2929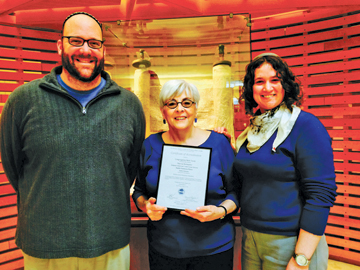 "When I interviewed for this job, I told the search committee that I never thought I would be able to work full-time doing something that I loved and that really had a place in my heart. At the time I felt like it would really be a privilege to do that, and I still feel that way."
Marcia Rittmaster loves her job. But after 17 years at the helm of Congregation Beth Torah's NATE accredited Weiner Religious School, and, even more, working with the congregation's youth group, she has decided it's time to retire. But don't take that as meaning she is stepping away from the Beth Torah community.
Rittmaster and her husband of 48 years, Larry, are active members of the Reform congregation and plan to continue attending services on a regular basis. They will also volunteer for a variety of programs and activities. In addition, Rittmaster will teach a T.A.G. option class beginning next fall.
"Beth Torah is still and always will be my family," Rittmaster said in a recent interview.
Family is one of the reasons Rittmaster has decided it's time to take a little step back. Her job — Rittmaster's official title is religious school and youth groups director — is all consuming. She regularly works 13-hour days and reports to work every Sunday during the school year at 7:30 a.m., often attending meetings or youth events well past the end of the school day at noon.
Now she'll have more time to spend with her four grandchildren who all live in the area — Sami, Mikaela, Jon and Ella. She wants to travel to see her middle son, Corey, who lives in Los Angeles with his wife Monique. That's not all. She would also like to spend time with her husband, her sister and other members of the large and very close extended family, as well as exercise and doing things for herself.
"I tell everybody I'm going to clean my basement and my garage when they ask what I'm going to do next," she quipped.
She also thinks it's time for new leadership.
"I am beyond delighted that Aaron Nielsenshultz will be taking over," she said. "He knows the congregation, the school and youth programs, the families and the teens. His enthusiasm for this job is exactly what mine was when I started 17 years ago."
How it all began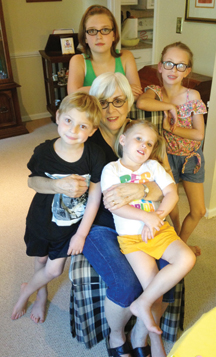 Rittmaster has been an employee and volunteer, or both, in the Jewish community for 49 years. She started working when her youngest son, Matt, started kindergarten in 1978. She worked one day a week as the assistant to the Community Religious School Principal Hilary Lewis. During that time she also taught kindergarten at CRS, which met at Congregation Ohev Sholom.
When CRS closed right around 1980, Rittmaster took a job at Temple Beth El, first as secretary to Rabbi Paul Levenson and then as administrator.
"The first day I went to work there, I didn't get a babysitter because it was the last day before school started. I left my oldest son Aaron in charge, he was about 13. I got a phone call from him saying, 'Don't worry, I've already called the fire department.' That was my very first day," she recalled with a laugh.
She worked there until Beth El folded. Before it did, she also took on the challenge of serving as its youth group director.
"I always say I learned from my children. The more involved they got, the more involved I wanted to be," she noted.
But her love for youth groups began when she was a teen herself. An active BBYOer in high school, she served as BBG council president.
"Youth group is something I've always done. I was a BBG adviser, Larry was an AZA adviser before we had kids."
As a parent, Rittmaster was a very active youth group volunteer. When the group's adviser prepared to move out of town, the youth groupers made their own request: "Why don't you just be our adviser?"
She thought it was a great idea, but she first sought her sons' permission. By that time Aaron had graduated from high school and the group, but Corey and Matt were still members. Corey had no problem with it. Matt's views were a little different.
"He gave me two rules. I wasn't supposed to stare at him and I wasn't allowed to dance in public," she said. "As long as he was in youth group I followed the rules. Then after that …"
After Beth El folded, the Rittmasters joined Beth Torah. A few years later in 1994, her services as a youth group adviser were requested. By then she had also begun teaching in the religious school.
In 1997 Beth Torah needed a religious school administrator and Rabbi Mark Levin suggested she apply for the position. At the time she was very happily employed with Dr. Glenn Goldstein's dermatology office. But she was drawn to the job because she loved working with Jewish youth.
Working with teens
Rittmaster never had any official training in education — she attended the University of Missouri for a time but didn't graduate. Over the years she has taken a multitude of adult education classes. While she has learned from those adult classes, she has also learned from her students and youth groupers.
"They are 'wise.' They look at situations with fresh eyes and I always learn a new perspective on any issue from them," Rittmaster said.
While times have changed — teens are much busier today than they were when Rittmaster started advising them 26 years ago — many things have stayed the same.
"It's still all about the friendships that they make," she commented. "You'd be surprised at the little silly things that continue to bind them together."
And today, just like 20 years ago, teens want to be noticed and taken seriously.
"They want to be heard. They want their ideas to be respected and they want to feel safe. I think that's our job to make sure they have those three things."
Another thing that has remained constant is that the programs that have the best attendance always involve social justice.
"They love to do things for other people and they have a great time doing it."
Opening doors
Among Rittmaster's accomplishments over the years — there are too many to list here — she is most proud of the fact that she was a part of the team that helped Beth Torah earn National Association of Temple Educators accreditation. Beth Torah is one of only 20 Reform congregations with accredited religious schools. That represents 2 percent of Reform congregations in the United States and Canada, and is the only accredited school in Kansas or Missouri.
"This is a very huge accomplishment," she said.
Even after her retirement, Rittmaster will continue to serve on NATE committees. As she reflected upon her career working with Jewish youth, she said it has all been about opening doors, not closing them.
"I believe our ultimate goal is raising Jews. We have to work with our members and make that accessible, which is why we developed the option program in our high school," she explained.
She said she was very lucky to have Rabbi Levin's support in all of her endeavors, especially in making education accessible to all members.
"Maybe somebody's in an elite dance class that only meets on Wednesday night. Do we want that student to drop out altogether and say the only option available is to be here at a time that works for us? No. We developed an independent study program for our students. We have standards and have certain benchmarks that have to be met, but as long as you are a partner with us we're going to make it happen."
Honoring Marcia Rittmaster
Congregation Beth Torah will celebrate the retirement of Marcia Rittmaster on two occasions, Friday evening, May 16, and Sunday morning, May 18. A special nosh is planned Friday evening, beginning at 6 p.m., followed by worship and an Oneg. RSVP at http://event.celebrations.com/CelebrateMarcia.
Activities Sunday morning, May 18, will begin at 9 a.m. with the customary breakfast. The second opportunity to honor Rittmaster will take place during the 9:30 a.m. family worship. No RSVPs are needed for this event.