As they prepare to graduate, Sosland twins feel rooted in Jewish community
Parent Category: News
Category: Latest News
Published: Thursday, 08 May 2014 11:00
Written by Barbara Bayer, Editor
Hits: 2465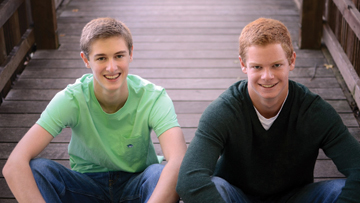 As twins, Max and Sam Sosland have attended the same school together, the Hyman Brand Hebrew Academy, their entire lives. While they both plan to attend Harvard University, this is the last time they will formally be in the same class. That's because Sam plans to start his studies at Harvard in the fall whereas Max plans to be based in Israel, taking part in the Kivunim gap year program.
The sons of Josh and Jane Sosland, Max and Sam will be following in their father's footsteps when they travel to Cambridge, Mass., to begin their studies at the oldest institute of higher learning in the United States. Sam, who hopes to become a doctor someday, plans to concentrate on history and pre-med classes. Max is not yet sure what he plans to study.
Sam said he chose an Ivy League school because "it seemed to have academic rigor and challenge that I was looking for."
Max said he and Sam didn't set out to go the same college, it just worked out that way. One of the things he liked about Harvard is the prestige associated with the university.
"I visited a couple of times. It's an amazing place. I love Boston. There are so many opportunities there to continue to apply your education while still in school. After all the decisions from the other colleges came in, that's the one that really came out on top," Max said.
Sam the thespian
A 4.0 student, Sam's favorite high school activity is taking part in the HBHA Drama Society. Just last week he appeared in "The Patient," a murder mystery by Agatha Christie. The show was presented twice and he played the role of Mr. Wingfield, a suspect in an attempted murder case.
"It's always fun learning to be someone else and it's also a challenge to be immersed in a role that isn't you. It's always fun being on stage making people in the audience laugh or cry. It's just a thrill," Sam said.
Other than summer acting camp, Sam didn't appear in his first play until his freshman year. While he enjoys it a lot, he doesn't expect to continue acting in college.
Max the athlete
Max, who describes himself at 6-foot-2 "give or take a little," said he loves playing basketball and joined the varsity team as a freshman.
"It's really had a huge influence on my time here, especially interacting with all the other student athletes. Being a part of the team has really allowed me to become closer to all the other players who I may not have interacted with much without that medium. I love playing the sport so being able to continue it on the varsity level in high school is just an amazing and great experience for me," Max said.
He also played varsity soccer for three years, skipping his junior year. Once again, the two-sport letter winner said he liked being a part of a team.
"I don't enjoy playing it as much as basketball, but I still think it's a fun sport to play. But the team atmosphere is really appealing to me," said Max, who also happens to be an accomplished piano player and is a member of the National Honor Society.
Todd Clauer, HBHA upper school principal, notes that Max works hard at everything he does.
"He is someone who is highly teachable as a student, athlete, writer and performer. He never seeks the limelight, but acts with genuine integrity and kindness in all areas of his life. His leadership in athletics sets a tremendous example for younger students, yet he is just as happy tutoring a lower school student one-on-one or serving as the leader in his school family — helping the youngest students feel welcome and valued in the school," Clauer said.
Max said he hopes his behavior as an athlete provided a good example for others.
"On the basketball court I try to help mold the younger players, the less experienced players, to become better players, not just on the court but also off the court," he said. "As a player for the team you're not just representing yourself, you're representing your team and the school itself. That's something that everyone should realize."
Tikkun olam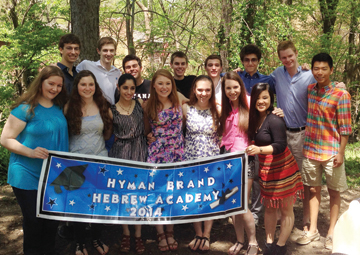 Serving the community and helping repair the world is something Sam and Max learned early in life. HBHA's Laura Hewitt gives just one example of how Sam has shined in that area.
"Sam thrives on a challenging environment and loves to learn. Last year our National Honor Society members volunteered at a soup kitchen in Kansas City's urban core. The kitchen serves 200 homeless men and women a day. While all of the students were apprehensive at first to be in such a different setting, Sam quickly adapted, choosing to be a greeter and ticket taker rather than working behind the scenes in the kitchen. This experience was a growing one for Sam. I was able to see in him a greater appreciation for what he has, and know that he will take that experience and use it to benefit others," Hewitt said.
By performing more than 100 hours of community service last year, Sam earned a Bronze Presidential Volunteer Service Award. He earned these hours by tutoring younger students in math and serving on the school's Holchim Yarok (Going Green Club). Over winter break he also went to Uganda to volunteer at St. Mary Kevin Children's Home in the small town of Kaijansi. The orphanage is supported by Change the Truth, a non-profit organization founded by local photographer and activist Gloria Baker Feinstein.
"The kids at the orphanage were basically on winter break so they had a lot of down town when we met them," Sam explained. "We helped them with arts and crafts or read to them. Our role at the orphanage was more being their friends than their helpers. We just basically got to know the kids at the orphanage."
It was the first time Sam, Max and their mother visited the orphanage. This was the second trip to Uganda for their father and younger sister Leah.
"That was really an incredible experience for me," Max added. "I really enjoyed it. It was something different than the usual community service we've been used to. It was really a hands on, see the good you do activity. It's definitely something I want to do again in the future."
Living a Jewish life
Performing acts of loving kindness and tzedakah are just part of the way Sam and Max express their Judaism. The Soslands — including their grandparents, aunts, uncles and cousins — are active members of Congregation Beth Shalom. Both Max and Sam said they attend services almost every Saturday morning, usually participating  in the congregation's Library Minyan. They both read Torah regularly, usually about once a month.
"Generally when I'm there I'll be asked to participate in some way or another, whether that's leading a section of the service or taking an aliyah, being a gabbai," Max explained. The story is about the same for Sam.
Neither Max nor Sam is really active in a Jewish youth group, although they have attended some USY events on occasion. They both attended Camp Ramah in Wisconsin, and both plan to be junior counselors there this summer.
Sam said he will try to be an active participant in the Jewish community at Harvard.
"And I believe I will be somewhat active in the Jewish community after college. I don't know how active I will be, but I think I'll be at least as active as I am right now," Sam said.
Life as Soslands
The Sosland name is well known in the Kansas City community. Sam and Max's grandparents, Neil and Blanche Sosland, are two of the founders of the school they have attended for the past 13 years. When they are presented with their diplomas next week, the total number of Soslands to have graduated will be 11 (that number includes daughter-in-law Rachel Pase Sosland). Three Soslands will still be enrolled in the school and two more will enroll when they reach kindergarten age. 
"Definitely a bunch of us have gone through the HBHA system," Max said. "I have really enjoyed it. From what I've heard from my cousins, aunts and uncles and my father, they also really enjoyed it. I don't really feel pressure through that, it's been something I've enjoyed doing. I don't know anything else but even then I know my experience here has been really incredible."
Both Max and Sam say the Sosland name is a blessing to them.
"It helps me feel connected to the community as a whole because when people say they know my family or they know my parents I feel like I have a connection with them. The name helps me feel rooted in this Jewish community that we live in," Sam said.
"I love being a part of my family," Max added.
Family is one of the reasons Max chose to go on the Kivunim Gap Year Program, giving him a chance to learn more about Israel and his Jewish heritage.
"I heard all the amazing stories that (my cousin) told about it. It's continuing education abroad and in general it seems like an amazing program," Max said. His cousin, Jonathan Edelman, spent the 2011-12 school year on the program.
Brothers and friends
As fraternal twins attending the same small private school, Sam said it gave him and Max the opportunity to "get to know each other very well since we're spending so much time with each other."
"It has its ups and downs because at the same time it's great that we get to be around each other all the time but we do need some time to be apart. It's definitely been a great experience having such a close friend also be a part of my family," Sam said.
Max noted that the two brothers have fairly different likes and dislikes.
"He doesn't really like sports as much as I do. That's one of the things that differentiates us," Max said.
"We are very different but we're really always there for each other. If our parents take us to a formal event where we're the only teenagers there, we'll really just hang out with each other and make sure we stay entertained and are not bored. … In uncomfortable situations we are there for each other. We find a way to have a good time when the situation doesn't seem to be that for us."