Beth Torah teams with Hyman Brand Hebrew Academy for new Aleph Bet program
Published: Thursday, 01 May 2014 11:00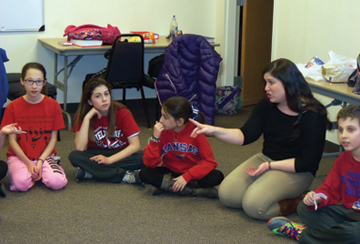 Congregation Beth Torah was the first congregation in the area to regularly invite parents to join their students for a bagel breakfast and family worship before the start of religious school classes every Sunday. The Reform congregation and its NATE accredited Weiner Religious School is now introducing a new digital Hebrew program, the Aleph Bet Program, which will replace the traditional midweek Hebrew classes beginning this June.
The Alpeh Bet Program is a collaboration between Beth Torah and Hyman Brand Hebrew Academy. Students will work with private tutors, hired and coordinated by HBHA, and study with them beginning approximately 18 months before their Bar or Bat Mitzvahs. Besides the lessons tailored by the tutors to meet the student's individual learning style, students will work with an online program called Let's Learn Hebrew Side-by-Side (www.letslearnhebrew.org).
In addition to dropping its midweek Keshet program, Beth Torah is adding a new component to its Sunday morning religious school called Hebrew Through Movement. A Hebrew specialist will join the religious school faculty and will visit classrooms every week to play Hebrew games and bring special spoken Hebrew activities to the students. 
"This program will give our students years of exposure to Hebrew sounds and vocabulary, in addition to the Hebrew used in worship and other locations of exposure to Hebrew in the synagogue, at home or even in Israel, before the pressures of reading set in," explained Beth Torah's Rabbi Educator Rabbi Rebecca Reice. 
What's driving this change?
Several factors led to Beth Torah's decision to change the way it teaches Hebrew to its students, including improved Hebrew literacy, attendance and financial considerations. 
Rabbi Mark Levin said the congregation's Hebrew program was good and well received, but running from September to May was an educational problem.
"Steve Burnstein (a former Beth Torah religious school director) once said to me that the first part of the school year was always a review of the previous year's work and that continued into November or December. That's three months out of eight or nine months," the congregation's founding rabbi said.
The small enrollment in the program coupled with its costs were also a big consideration in the change.
"It was clear that things are changing in the way that people expect their participation in synagogue life. Children's schedules have changed and one program at one time during the week was not working as well as we might have liked. There are financial ramifications to that because in the past all of the children were at one time in the program. If you construct a program based on that and a third of the students don't participate, there are financial implications that needed to be attended to," Rabbi Levin said.
Rabbi Reice explained that 35 students are enrolled in Keshet this year.
"The pool of students has really declined, in part due to private tutoring. More than a third of our Hebrew learners between fourth and sixth grade are already in private tutoring," she said. 
"That's the popular choice in many ways but this new program is also an incredibly beneficial educational option, which is why a majority of those families selected private tutoring either for its convenience or for its educational value," she continued.
"There's more possibility in the individualization of tailoring it to the specific needs of each and every family," Rabbi Levin added. "Fully one third of our families have opted to individualize our program without us telling them that they can, so clearly already a third of the families were there at individualized education."
Rabbi Reice anticipates about 18 students will be enrolled in the first year of Aleph Bet and continue on to become a Bar or Bat Mitzvah 18 months later, in late 2015 and 2016.
As Rabbi Levin sees it, there's no doubt that digital education is the path of education in the future.
"I whip out my cell phone and ask parents, how many hours a day do your kids spend on this. And they say, I don't know, 20. So everything is going to be digital." 
He referenced a passage in Amos Oz's book, "Jews and Words," as well.
"First there was the scroll. Then there was the printing press. Now there's digital. This is the greatest revolution in education in 500 years. We either get ahead of it or we will be run over by it. There are no other options. That's what the kids are using, whether we like it or not," he said. 
As the school underwent its NATE accreditation process, the national organization also recommended that the Hebrew school be restructured based on its current student population. NATE also recommended the congregation explore the possibility of identifying community partners in the process.
The partnership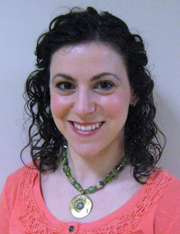 As NATE suggested, Beth Torah began talks with other community partners in its effort to redesign its Hebrew program. "Everybody had good intentions, but nothing came to fruition," Rabbi Levin said.
But discussions with HBHA and its Head of Jewish Studies Rabbi Avi Weinstein were fruitful.
"As part of our vision, about two years ago we decided we wanted to participate in the education of students and adults outside our walls," noted HBHA Head of School Howard Haas. "So we started speaking to different rabbis and the funders and wanted synagogues to know that we were here to serve in any way, in any capacity for their students."
"We've been talking with Beth Torah for almost two years and we're very excited about our partnership," Haas said.
According to Rabbi Reice and Haas, there is no other partnership similar to this one between Beth Torah and HBHA anywhere else in the country. However several congregations are employing the Let's Learn Hebrew Side-by-Side in their Hebrew curriculums. 
Haas is thrilled with the partnership, saying it reflects the good relationships the area congregations and agencies have with each other in this city.
Beth Torah's Aleph Bet program will be run by HBHA, which has hired Shira Zigler to serve in that capacity. Zigler will also serve as a tutor in the program.
The majority of the Aleph Bet tutors will be full-time members of the HBHA faculty. Some are native Hebrew speakers and all are experienced Hebrew educators. Several members of the current Keshet staff have also expressed interest in becoming Aleph Bet tutors, Zigler said.
How will Aleph Bet work?
Zigler said that once a child enters the program, he or she "will be matched up with a Hebrew tutor that is a good fit with their family and they will begin weekly private lessons with their tutor. They will be utilizing an online Hebrew learning tool together with the tutor that will include an additional component as well as a review and hands-on activity each week." 
Rabbi Reice said the program will begin approximately 18 months prior to the child's Bar or Bat Mitzvah. 
"Traditionally Beth Torah has had nine months of Bar or Bat Mitzvah tutoring. So we're imagining this program starts at least nine months before that B'nai Mitzvah tutoring period," she said.
In most cases, students will begin tutoring in their sixth-grade year. Upon graduating from the program students will be prepared to read t'filot (prayers) from the "Miskhan T'filah" Reform prayer book and begin an additional nine months of B'nai Mitzvah training. 
Each tutoring session will last approximately 30 minutes. It will run year round. The cost of the new program is comparable to the old program. 
"The Aleph Bet program enables students to learn Hebrew more intensively with greater supervision and individualization, over a much shorter period of time when they are more motivated to learn as the Bar/Bat Mitzvah draws closer, and for only $50 more than the program formerly cost," Rabbi Levin said.
One difference is payment for the Aleph Bet program will go to HBHA, not Beth Torah. 
The program will be slightly different for those students who were already in Keshet. Fourth-grade students will have private tutoring for six months and fifth-grade students will participate for three months. Participation in Aleph Bet is optional for those students who completed the sixth-grade Keshet program.
The digital component is a website called Let's Learn Hebrew Side-by-Side (www.let'slearnhebrew.org). 
"You can actually see the fourth lesson online and go through the entire thing and see that it has click throughs, it has sound files, it has videos. Parts of it are like something you might find on YouTube, but parts of it are extremely superior to things you will find online because it's so interactive," Rabbi Reice said.
There is a group of fourth grade students who will have a hiatus in their Hebrew learning in the transition from Keshet to Aleph Bet. Rabbi Levin said a couple of people have expressed an interest in continuing to study Hebrew during that gap and Beth Torah is setting up a program for them if they want to participate in it. 
But, Rabbi Reice pointed out that there really isn't a true hiatus as these children will be a part of the Hebrew Through Movement religious school curriculum.
None of these changes affect the congregation's actual Bar/Bat tutoring program.
"There is no change in our Bar and Bat Mitzvah tutoring. This is a nine month experience which precedes nine months of their Bar or Bat Mitzvah tutoring at Beth Torah. This is not Bar and Bat Mitzvah tutoring. This is Hebrew," Rabbi Reice said.