BIAV member named one of Professional Builder's '40 Under 40'
Parent Category: News
Category: Latest News
Published: Thursday, 01 May 2014 11:00
Written by Barbara Bayer, Editor
Hits: 2745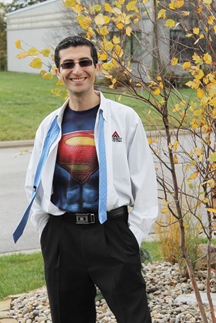 Zalman Kohen, vice president and chief operating officer at Summit Custom Homes, was featured in the March 2014 issue of Professional Builder in the magazine's "40 Under 40" list. As described by the article, the 40 individuals who made the list "represent the next generation of leadership and innovation in home building." 
Kohen is a "very talented and dedicated executive, and is absolutely deserving of this award. He certainly is representative of the next generation of leadership and innovation in home building," commented Summit's President and CEO Fred Delibero. 
Professional Builder received more than 100 submissions for this year's awards. 
"When selecting candidates, we primarily look for impressive and concrete accomplishments, such as contributions to noteworthy revenue and company growth, integrating new systems or technologies that reduced cost, and giving back to the community," said Kyle Clapham, Professional Builder's managing editor. 
In 1995, when he was 15 years old, Kohen and his family immigrated to the United States and the Kansas City area from Uzbekistan, an independent republic that was part of the former Soviet Union until 1991. 
"My uncle was the one who sponsored us and the Jewish Family Services provided us some assistance initially," said Kohen, a member of BIAV.
He describes his family as Bukharian Jews. According to Jewish Virtual Library, the term Bukharian Jews refers to the Central Asian Jews of the khanate of Bukhara, those of Samarkand and the Ferghana Valley. Today, the region is divided between the former Soviet republics of Uzbekistan, Tajikistan and Kyrgyzstan. The majority of Bukharian Jews live in the Uzbek cities of Samarkand, Bukhara, Tashkent and Kokand, in Tajikistan's capital, Dushanbe, and in Kyrgyzstan's capital, Bishkek.
"My family is from Samarkand and lived there for generations until the '90s when there was this mass exodus. People immigrated either to Israel or to the United States and our family was fortunate to come to the United States," Kohen said.
It was through his parent's love and dedication to bettering their family that Kohen adopted his "failure is not an option" approach to life. He and his wife, Veta, were married when they were just 19 and had twin boys a year later. While working an average of 60-hour weeks, Kohen earned a dual-major bachelor's degree from Ottawa University and then, upon graduation, continued his education earning an MBA from Webster University.
Kohen knows the home building business is not something that many Jews have worked in over the years, and explains it wasn't something he ever planned.
While going through school Kohen was a store manager at a pawn business owned by another BIAV member. During that time he became friends with a regular customer who knew he didn't want to spend his life in retail. This customer hooked Kohen up with a real estate developer who offered to meet Kohen and show him what he did. 
The man saw potential in Kohen, and told him, "I think you would be a good candidate for this new role that we are envisioning as part of our homebuilding team." The role he wanted Kohen to fill was in purchasing, estimating, customer care and warranty oversight.
Kohen's immediate reaction was that he knew nothing about home building. But he was assured the company would provide good training, and the boss told him, "I think you're a sharp enough guy you'll pick it up quickly."
So Kohen took a leap of faith because he didn't want to regret not taking this chance later. He decided to give it his full commitment. When he started the new job with Gale communities he studied a lot, both in books and on the job site.
"I did a lot of self-study and … went to seminars and read books and just tried to educate myself so I could better understand exactly what this business was all about."
In 2009, during the time of the big economic downturn, Kohen had an opportunity to go to work for Summit Custom Homes.
"Fred (the owner) was looking for candidates for a general manager's position he was trying to fill. Through mutual friends we were able to connect and it was one of those leaps of faith again because leaving the home-building company during the downturn and coming on board with another home building company was probably not the smartest move per se," Kohen said.
He chose to take that second leap of faith because he liked Delibero's vision for the company and what he was hoping to achieve.
"At the time I was the fourth person in and now our team has grown to 33 team members and we still have additional positions that we are working on filling. At the time we were building 40 homes a year and last year we built 215 homes. We've experienced over 400 percent growth and it's really been rewarding and challenging. It once again goes back to the fact that I absolutely love what I do. I enjoy it tremendously and because of that it becomes more fun to do what I do."
Kohen said it was both humbling and rewarding to be recognized by Professional Builder magazine.
"It's probably more humbling than anything else. It's somewhat of a surreal aspect of recognition in as much that I don't particularly feel that I've done anything noble per se, it's just a daily course of operation. I just try to go in and put in my 110 percent and do the best that I can. I'm very passionate about what I do, I truly do enjoy it. I certainly don't look at it as a job. Because it comes with passion and joy it becomes very natural. Being recognized for something that I enjoy doing just makes it that much more satisfying and gratifying," he said.
Kohen loves seeing his projects go from blueprints to houses to homes. He especially enjoys being invited by the homeowners to see the home once it is occupied.
"They invite you in because they are so excited about the dream home that we were able to build for them and they want to show that off," he said. 
"It's really gratifying to be able to go in after the fact and see all of those conversations that we had from the sales perspective, through the construction process and then see all of these visions and details that we discussed come to fruition. It's very gratifying to see that a very small part of what we are doing is building those dreams and building the future where families come together. Home is where everything happens. On a grander scale it is very rewarding from that as well."
Today, Kohen and his wife have three children: twin boys, who are now 14, and a daughter, who is 5. At Summit Custom homes, the largest permitting single family builder in the market and one of the top 200 builders in the United States, Kohen is responsible for the day-to-day operation of the business.
He said that "a combination of hard work and dedication, plus the support of a loving family … as well as being surrounded by encouraging and motivating people, has enabled me to achieve great successes this far, and I look forward to continued success in the future." 
To view the article online, visit www.probuilder.com/2014-professional-builder-40-under-40-awards.