Not everything goes smoothly inside Campus lockdown
Parent Category: News
Category: Latest News
Published: Thursday, 17 April 2014 04:00
Hits: 2608
By Barbara Bayer
Editor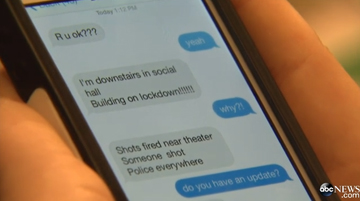 People stuck inside the Jewish Community Campus on lockdown Sunday afternoon under the auspices of the Jewish Community Center report that things overall went smoothly. Girls attending a BBYO meeting at the Campus were not so lucky.
The group of nine teenage girls, members of BBYO's B'not Lev chapter, were having a board meeting in Conference Room B on the second floor. Unlike most days, there was no adult supervising them and no one in the building came to officially tell them it was in lockdown mode, according to Logan Cole, the chapter's 16-year-old president. The girls learned of the lockdown from a parent who happened to be in lockdown in the Social Hall.
Logan said at first the girls — who range in age from 14 to 17 — didn't understand that there was a shooting at the building. When they were told it was by the theater, they thought of the AMC Theatre across the street at Town Center Plaza. But they quickly figured it out that it was the theater at the Campus.
They were lucky enough to have the phone number of the security guard in the building that day, so they called him. He advised them to stay put. Stuck in a room with three doors, they barricaded all the entrances as best they could. They kept in contact with parents and the news through phone calls, texts, Twitter and Facebook.
Logan said they were all "freaked out and a little unsettled." But they kept their cool and remained inside. Even after one parent told them it was safe to leave, having gotten no official word from a Campus representative, they didn't budge from their safe haven.
"I was not going to let any of us leave this room until a security guard comes up here," Logan said. Eventually they reached a security guard, again by phone, and they left.
A day later, Logan and her friends were still unsettled by the incident. Her car was among those that was right in the middle of the crime scene and she wasn't allowed to take it home on Sunday. When she picked it up, she was flooded with emotions.
"As I was walking across the parking lot it made me sick to my stomach to think that something actually happened right here," she said.
Confusion existed among another small group at the Campus, this one a group of boys who were expecting to attend an umpire training session on the baseball fields.
The Chronicle has learned at least two boys were already on the field when they heard shots. However, they didn't realize what they heard.
A storm was brewing so the boys took cover under a shelter by the concession stands. Moments later a representative from the JCC ran out to tell them they should go home.
One boy's mother, who remains unidentified, said she thinks being under the cover was ultimately a safe place to be.
"They were blocked out of sight for the most part and on the back side of the JCC," she said.
She said her son told her the boys were told to call a parent, but not really told to come inside. 
"There was still concern that there might be someone in the building so frankly, it was probably the best that could be done at that point in time," she said.
Inside the Social Hall
Jacob Schreiber, JCC president and CEO, was in the building serving as a judge for KC SuperStar auditions, which started at 1 p.m., approximately the same time as the shooting occurred. He thought the emergency procedures the building has in place "actually went exceptional."
"As soon as shots were heard, the message spread immediately. All the teens that were trying out for SuperStar, everybody in the front lobby was ushered into the Social Hall immediately. Within 30 seconds everybody was in the Social Hall," Schreiber said.
The entire building was placed in lockdown. People in the theater wing went to the Green Room and people in the sports and fitness area were sent to the locker rooms. 
"Everybody stayed away from the crime scene," Schreiber said, noting that he had been told by police fairly quickly that the shooter had left the scene but they were asked to stay inside so as not to impede the investigation or contaminate the crime scene.
Inside the locker room
It appears people in other parts of the building, specifically sports and fitness, may not have received the same information that people locked in the Social Hall received.
"I was getting all my information from my wife on the phone," noted Mark Klein, who had arrived at the JCC around noon to swim laps. He swam 30 laps and said if he had only swum 29 laps, he would have walked into that parking lot just as the shootings occurred.
"We had televisions in there but couldn't get any information whatsoever. Any information we were getting was via cell phone from people outside the center," said Klein, who estimates he was in the locker room for about an hour. Then they moved to the lobby area of sports and fitness but were asked to remain in the building for another 30 minutes or so.
"By that point the word had gotten out there had been multiple shootings and a death on the Campus," Klein said.
Klein said he and others were ushered into the locker room by JCC Sports & Recreation Coordinator Bob Hennecke. Klein said a few people were irritated about being locked down and one guy actually left, against advice from staff. Klein said most people were "surprisingly" calm.
"One child who had been separated from his parents was crying but after he was able to call his mother he calmed down. Other than that it was quite calm."
By most accounts, those in areas governed by the JCC were taken care of quickly and efficiently.
"Our staff was incredible," Schreiber stated. "We did have some staff here and whoever was here stepped up and took a leadership role to make sure that police had what they needed, that we were communicating as much as possible with everybody in the building, based on the information that we were getting."
Klein said he was surprised that he never saw one policeman inside the area he was in the entire time the building was on lockdown.
"You would have thought they would have combed every inch of that building," Klein said. "How did they know he hadn't planted bombs all over the building? I was expecting to walk out of the locker room seeing policemen and bomb-sniffing dogs."
"In retrospect everything was under control at that point," he added.
As others in his same situation have commented, Klein said he didn't really get the full impact of what was going on until after he actually walked out of the building.
"We knew there had been a shooting, we knew there had been deaths, but when you walked out and saw dozens and dozens of emergency equipment and flashing red lights, police tape ... that's when it really hit me," he said.
Klein said he will go back to the JCC, but he's always felt a little trepidation about going there.
"I've told (my wife) many times if there was some nut case out there who was anti-Semitic you've got the Jewish Community Center and Menorah Hospital and Village Shalom and B'nai Jehudah all within six or eight blocks of each other and there is seemingly very little security. Even if there had been 20 security guards inside that building it wouldn't have stopped Sunday's incident. The guy pulled up outside and shot."
"I'm going to be nervous, but I'm always cautious when I go in there," he added. "This too shall pass I imagine. I don't want to live the rest of my life as a hermit."
Inside Village Shalom's lockdown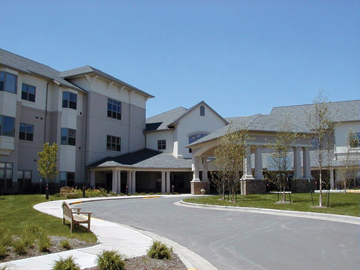 Rich Klein, Mark Klein's brother, happened to be at Village Shalom checking on his aunt on Sunday and experienced a lock-down situation as well. He hadn't been there long when he heard the police sirens.
"There was another gentleman who lives there who was wondering too, so I talked to one of the nurse's aides and she told me we were under lockdown and we needed to go to our rooms. She told me there might have been a shooting," Rich Klein said.
He said he doesn't know if there is a PA system at Village Shalom, but if there was one, it wasn't used.
"It looked like the aides were telling all the residents here," he said.
Rich Klein arrived just before the shooting occurred and parked just a couple of cars from where it took place.
"They were actually closing the blinds when I came in," he said. 
There were storms brewing at the time and Rich Klein said it's normal for staff to close the blinds in the rooms during storms.
He said he never really was given an all clear to leave.
"I was following the news and when I heard the guy was captured I felt free to wander out and ask if it was OK to get out. FBI and police were here so we didn't know if we could leave the premises or not," he said.
Rich Klein ended up leaving Village Shalom around 6:30 p.m. He wasn't allowed to take his car because it was right at the crime scene, so his brother had to pick him up. His car was released later Sunday evening. Those who had cars in the crime scene area at the Campus weren't able to get their cars until mid-afternoon Monday.
The Chronicle has learned that residents of the villas at Village Shalom received phone calls from Village Shalom staff regarding the emergency.
Rich Klein thinks things went smoothly.
"I think they need to sit down and figure out what procedures are working best and what needs to be changed, but I wouldn't say there was anything bad about it. A lot of the residents didn't know what was going on … I didn't tell my aunt what was happening because I didn't want to upset her. A lot of the other residents that I talked to had heard that something was happening and some of them were following it on TV and that's about all they were using because they don't use the Internet and the TV was a little sparse in what they were reporting.
"I wish there was an announcement or something to tell people to go to their rooms, but I'm no expert on those kinds of things," he concluded.