Written by

Beth Lipoff, Contributing Writer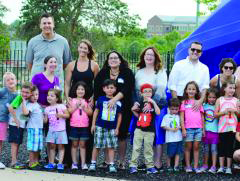 For more and more students, school at the Hyman Brand Hebrew Academy is a family affair. Over the last few years, the school has seen a rising number of legacy students — pupils who have a parent who also attended HBHA. In this year's kindergarten class, 16 of the 34 students are legacies.
 "This particular kindergarten class, their independence is extraordinary. Often kids when they start their parents walk them in. These 5-year-olds don't want their parents to walk them in, because they've been here (before with older siblings or their parents)," said Howard Haas, HBHA's head of school.