Sander, Warren
Published: Thursday, 18 January 2018 12:00
Written by KCJC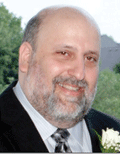 Warren Sander, 59, of Collierville, Tennessee, died Saturday, Jan. 13, 2018, following a battle with cancer. Funeral services were set to take place at 11 a.m. Wednesday, Jan. 17, at Louis Memorial Chapel; burial to follow at Kehilath Israel Blue Ridge Cemetery. Kindly omit flowers; the family suggests contributions to the Midwest Center for Holocaust Education or a charity of one's choice.
Warren was born April 22, 1958, to Shirley Sander and the late Sam Sander, in Kansas City, Missouri. He graduated from Center High School in 1976. He attended the Georgia Institute of Technology (Georgia Tech) and received a bachelor's degree in computer science from the University of Missouri – Kansas City.
Warren began his professional career at Burns & McDonnell in Kansas City before moving to the Boston area where he worked for Digital Equipment Corporation, Compaq and Hewlett Packard. He subsequently moved to Memphis, Tennessee, and was working for Federal Express doing web analytics until his death.
He had a love for movies, and would go almost every Saturday to see any new release from that week. A lover of science fiction, he always had a paperback book in his back pocket to read to pass the time. His greatest love, however, was a seat at the poker table. He would annually travel to Las Vegas to meet up with his friends at BARGE, the Big August Rec. Gambling Excursion.
Warren was preceded in death by his father, Sam Sander. He is survived by his mother Shirley Sander; sister Mindy Forman; brother and sister-in-law Jeff and Linda Sander, all of Overland Park; niece and nephew Jennifer and Michael Kirschenbaum of Long Island City, New York; nephew Grant Sander of Overland Park; and loving aunts, uncle and cousins.
The family would like to thank Warren's physicians and nurses at West Cancer Center in Germantown, Tennessee, his caretakers at Signature Healthcare at St. Peter Villa in Memphis and especially his FedEx team who were very important to Warren and treated him like family.
Condolences may be shared at www.louismemorialchapel.com.
Arrangements by The Louis Memorial Chapel, 816-361-5211.