Goldenberg, Melissa Palan
Published: Thursday, 21 September 2017 10:00
Written by KCJC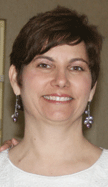 Melissa Palan Goldenberg passed away Monday, Sept. 18, 2017, surrounded by her loving family.
Missy was born on July 12, 1971, in Kansas City, Missouri, to Bob and Barbara Palan. She graduated from Shawnee Mission South High School, where she was a member of the girls' flag team and editor-in-chief of the school yearbook. Missy graduated magna cum laude from Washington University in St. Louis, Missouri, with a degree in elementary education. Upon graduation, she taught at Oak Hill Elementary School. She later received her master's degree in special education from St. Joseph University.
In 1996, she married her soul mate, Jeff, and together they raised three lovely daughters, Elana, Kayla and Mirra. When her daughters began school, she returned to teaching at Hyman Brand Hebrew Academy, where she was a resource teacher for many years. She also was an adjunct professor at the University of Saint Mary, where she taught in the graduate school of education.
Missy was active in numerous community organizations and served at one time on the boards of Congregation Beth Shalom and the National Council of Jewish Women. Her love of children was never ending, as was demonstrated by the profession she chose.
Missy leaves her beloved husband, Jeffrey, and children, Elana, Kayla and Mirra, all of the home. She also leaves her parents, Bob and Barbara Palan, of Overland Park; her brother, David Palan, and his wife, Amanda, of Overland Park; her sister, Jamie Weinstein, and her husband, Brian, of Woodcliff Lake, New Jersey; her mother-in law and father-in-law, Marsha and Seymour Krinsky, of Overland Park; her sister-in-law, Shira Zigler, and husband, Scott, of Overland Park; her brother-in-law, Richard Goldenberg, and wife, Karen, of New Orleans, Louisiana; her step-sister-in-law, Jerri Arlan, and husband, Larry, of Leawood; and her step-sister-in-law, Sharon Davis, and husband, Joel, of Northbrook, Illinois. She was loved and survived by many nieces and nephews, aunts, uncles, cousins and friends, by whom she will be dearly missed.
Missy was a kind, loving and caring person whose life touched all those she met. She was an inspiration to not only her loving friends and colleagues but to all who knew her. The family would like to thank the entire community for their love and support.
Funeral services were set to take place at The Louis Memorial Chapel Wednesday, Sept. 20, 2017, with burial to follow at Mount Carmel Cemetery.
In lieu of flowers, donations can be made to The Melissa Palan Goldenberg Charitable Giving Fund at the Jewish Community Foundation of Greater Kansas City or to the charity of your choice.
Online condolences may be left for the family at www.louismemorialchapel.com.
Arrangements by The Louis Memorial Chapel, 816-361-5211.