Friedman, Rebbetzin Miriam Tzimel
Published: Thursday, 22 June 2017 11:42
Written by KCJC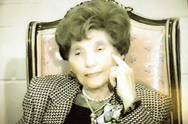 On Sunday morning, 17 Sivan, 5777 (June 11, 2017), Rebbetzin Miriam Tzimel Friedman passed away. She was 101 years old and the mother of Rabbi Benzion Friedman of Torah Learning Center in Overland Park, Kansas. She was interred on the following day at Old Montefiore Cemetery in Queens, New York, adjacent to her husband of 60 years, and near the resting place of the Rebbe, of blessed memory.
The rebbetzin was born on the 15th of Shevat, 1916, in Kuyzmin, Ukraine, a village near Zhitomir. Her father, Rabbi Yosef Baruch Reichvarger, later served as rabbi of Kharkiv. He was also the chief justice of the rabbinic court in the city.
During World War II as the Nazis were nearing Kharkiv, she made her way to Tashkent, Uzbekistan, with her parents, a brother and a sister. They remained there in relative safety until the end of the war. Her other siblings did not share the same fate and were lost at Babi Yar and in the remote Magadan labor camp system.
In 1944 in Tashkent, Miriam met Rabbi Yaakov Moshe Friedman, of blessed memory. His family, which hailed from Poland, had arrived in Tashkent after spending several years in Siberia, exiled there by the communists. The young couple were married in Tashkent under primitive conditions, resolving to defy the odds of Jewish survival and build a Jewish home in the age-old traditions of yiddishkeit.
With a gentle approach, steadfast resolve and serving as ideal role model — she and Yaakov succeeded in raising a family dedicated to the service of the Jewish people. Her joy and pride was witnessing all her children establish their own lives, in locations far and wide, in service of the Jewish people, promulgating the Rebbe's message and teachings, each in their own way: teaching, coaching, supporting, writing and singing. How much greater her nachas upon seeing this continue by her grandchildren, great, and great-great-grandchildren.
The rebbetzin was a wise woman, regal yet gracious. Practical and incisive, she always naturally homed in to the core of the matter at hand. An empathetic listener, she had a wonderful way of interacting with all. Her sense of humor endeared her to many visitors, medical personnel and home attendants.
From a talented family of artists, she was also blessed with a keen appreciation for music, prose and song. Like her namesake, Miriam sang mellifluously. She encouraged her children to develop and express their own unique appreciation for the same. How proud she would be, as her family sat around her beautiful Shabbat table, as her husband led all eight of her children in singing his legendary Shabbat songs and melodies.
In recent years, members of her prodigious family were always with her; she was continuously busy interacting with a steady stream of visiting adults and children of all ages. Her rapport with the younger set of grandchildren and great-grandchildren was a wonder to see. Indeed, she was not just the "bubbe" of her offspring, but to a host of visiting children who chose her as their "bubbe" as well.
Her taste in design was for symmetry and the geometric. This expressed itself in how she lived her life. Positive and goal oriented, she was unhappy with excess she saw in American culture.
A bookkeeper by profession, Miriam was a natural with math and numbers; her books always perfectly balanced. She was also possessing of a great sense of time. Her children were amazed each time, as she would accurately state the time of day without even a glance at the clock.
How fitting then, that as Miriam Tzimel's pure soul was ascending on high in New York — a new soul was descending from on high, born to a granddaughter in Kansas, to Rabbi and Esther Friedman's daughter and son-in-law, Brachie and Levi Perl.
Symmetry and perfect timing.
The child was immediately named at the Torah right there at the chapel synagogue: Miriam Tzimel.
A balanced sum-total.
The song of Miriam continues.
May her legacy and memory be for a blessing.
A Shloshim memorial service will be held in her memory at 7 p.m. Wednesday, July 12, at Torah Learning Center, 8800 W. 103rd St., Overland Park, KS  66212.