Von Ende, Richard
Published: Thursday, 04 May 2017 10:54
Written by KCJC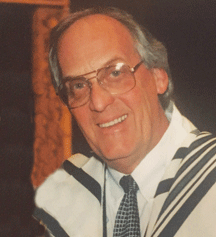 Rick von Ende — cherished husband, father, brother, colleague, and friend — died at 1:35 a.m. on Monday, May 1, 2017, on the date of his 29th wedding anniversary, surrounded by loved ones who fulfilled every day of his life.
Born in Pittsburgh, Pennsylvania, on July 28, 1940, our dad was, at various points in his wondrous life, a country-western band bass player and vocalist, a football player and surfer, a United States Marine, a student, poet, amateur drag car racer, semi-pro rugby player, world traveler, president and chief executive officer at Health Midwest Office Facilities Corporation, executive secretary to the University of Kansas and the school's chief lobbyist, synagogue board member, and kids' athletic coach. He inspired us all with his many stories, including his experiences in the March on Washington and hard fought battle early on in support of Title IX. His life was one lived through an ever-changing world, but he was a paragon of consistency and values throughout his 76 years.
Our father was a commanding presence both in person and in the lives of those who knew him. Those who were so fortunate know that his hands never idled nor did he ever condition his love. He was a man who never took a second chance for granted and — like his chosen namesake, Micah — he diligently pursued goodness, duty, and justice for all of his days. He was our lifelong champion and showed us, day in and day out, the value of showing up in life. In his final days, his friends and loved ones demonstrated how well they absorbed this lesson of his life.
Our dad will be tremendously missed by all of those who survive him. But his legacy will live on through the many lives he touched with his gentle and persistent kindness, with his dedication to showing up. Our father's strength and sense of self is evident in his son, Matteo. His kindness and humor in his daughter, Jennifer. His diligence and demeanor in his daughter, Elizabeth. His integrity and brilliance in his daughter, Samantha. His values and love of family in his brother-in-law and sister-in-law, Jerry Stolov and Judy Elliott, and his brother and sister-in-law, Ted and Catharyn. His commitment to excellence in his sister, Terry. And the light of his life lives on in the eyes and smile of his wife, Dr. Harriet Langley. There is great comfort in the knowledge that both his good deeds and his lifelong dedication to the wellbeing of others have ripple effects that will surely outlast us all. He will be carried forward in spirit and memory with all of us for the remainder of our lives.
The funeral is scheduled to take place at 1 p.m. Wednesday, May 3, 2017, at Louis Memorial Chapel. Shiva will follow at the family home. We ask that, in lieu of flowers, donations be made in his memory to the American Hebrew Academy (www.americanhebrewacademy.org).
Online condolences may be left for the family at www.louismemorialchapel.com.
Arrangements by The Louis Memorial Chapel, 816-361-5211.