Rogozenski, Morris
Published: Thursday, 26 January 2017 11:22
Written by KCJC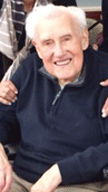 Our father, Morris Rogozenski, went to sleep on Jan. 16, 2017, and joined his wife, Helen. Our mother would always refer to him as "Peter Pan" ... never grow up and never die. Private family services were held.
Morris was a devoted husband and father. He always made his wife and his girls his number one priority. He owned a small grocery store and he missed all proms, dances and graduations so his girls could get a college education and make something of themselves. He sacrificed everything for his family.
He was a World War II veteran and always was proud to serve his country. If he saw a serviceperson, he always thanked them for their service. He worked at Ben's market, his future father-in-law's store, met his wife, and then opened his own grocery store. His wife and he worked there together. He then retired and worked for Alenco as a greeter at Sam's store until he was 90.
He is survived by his devoted daughters, Pamela Rosenberg of Leawood, Kansas, Elaíne (Ted) Stein of Rancho Mirage, California, and Debra (Stu) Goldstein of Leawood, Kansas. Morris also leaves his grandchildren and great-grandchildren. He was preceded in death by his "Helen" in 2016, and his mother, father, sister and brother.
Morris was a life member of Congregation Beth Shalom. Please make donations to Kansas City Hospice House or Village Shalom.
Our father was the kindest, sweetest and most loving man. He always had a smile and a welcome for everyone he met. Our thank you to Christine Lawson, Jill Craft and the loving staff at Village Shalom. Our father loved living at Village Shalom. He had a wonderful and happy year and a half. We will miss him forever. Mommy has been waiting for you.
Condolences may be left for the family at www.louismemorialchapel.com.
Arrangements by The Louis Memorial Chapel, 816-361-5211.