Milgram, Byron A.
Published: Thursday, 19 January 2017 10:00
Written by KCJC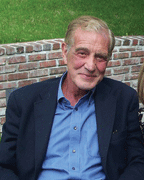 Byron A. Milgram, 85, of Leawood, Kansas, passed away Wednesday, Jan. 11, 2017, at Overland Park Regional Medical Center. Graveside funeral services were held Jan. 13 at Sheffield Cemetery; burial followed. The family suggests contributions to the charitable organization of your choosing.
He was born April 24, 1931, in Kansas City, Missouri, and was a lifelong area resident. Byron received his Bachelor of Arts from Northwestern University, followed by graduating from the University of Missouri School of Law. He practiced law in Kansas City for a short period of time before deciding to transition to a career in psychiatry. Byron received his MD from the University of Missouri Medical School and completed his residency at Duke University. Following his residency, he returned to Kansas City for a long, accomplished, successful career as a psychiatrist, including time as a member of the board of directors at Menorah Medical Center.
Bryon married the love of his life, Susie Brodkin, on July 31, 1966. Their 50-year marriage was a true fairy tale love story. He was a devoted husband. They were true partners and together they traveled the world.
Byron was an experienced mountain climber. He loved exploring the Rocky Mountains as well as climbing some of the world's most famous mountains, including the Matterhorn.
He was highly respected as a physician and a man of great integrity. His friends and family knew him to be loyal, compassionate, caring, smart, wise and kind.
Byron was preceded in death by his parents and his beloved wife Susie.
He is survived by his daughters and son-in-law, Lisa Milgram and Heidi and Howie Erenberg, and grandchildren Betsy and Charlie Erenberg.
Online condolences may be left for the family at www.louismemorialchapel.com.
Arrangements by The Louis Memorial Chapel, 816-361-5211.