Wajcman, Miriam
Published: Thursday, 19 January 2017 10:00
Written by KCJC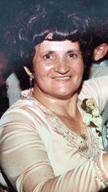 Miriam Wajcman, 91, of Overland Park, Kansas, passed peacefully surrounded by family on Thursday, Jan. 12, 2017, at Village Shalom. Services were held Jan. 13 in the chapel at Kehilath Israel Blue Ridge Cemetery; burial followed. The family suggests contributions to Kehilath Israel Synagogue, Beth Israel Abraham & Voliner Synagogue, Midwest Center for Holocaust Education or Village Shalom.
Miriam was born June 6, 1925, in Lodz, Poland, the daughter of Samuel and Doba (Gershkorn) Markiewicz. She married Kisel in 1949 in Paris, France, and after the war, came to the United States in 1952, moving to Kansas City with their 10-month-old son to join extended family.
She was a seamstress for many years for prominent tailor shops in the Kansas City area. 
Miriam was a member of Kehilath Israel Synagogue and its Sisterhood, the Jewish Community Center and the New American Club.
She took great pride in her family and was a very devoted and loving wife, mother, grandmother and great-grandmother. 
Miriam enjoyed traveling with her husband, knitting, cooking, making outfits for her grandchildren and was very proud of her traditional Jewish home.
She was preceded in death by her parents and two sisters, Zelda and Tola in the Holocaust. Miriam was also preceded in death by her husband Kisel in 1988; one grandson, Michael Wajcman; two sisters, Bena Gutovitz and Minia Nisenkier; and her brother, Kopel Markowitz.
She is survived by her sons: Simon, David (Mindy)Wajcman; daughter, Deborah (Michael) Stone; grandchildren: Melissa (Brandon) Winchester, Yehoshua Chaim Wajcman, Daniel (Sara) Wajcman, Kaley (Jon) Schwartzbard, Jordyn and Chloe Stone; granddaughter in-law, Shira Wajcman; and 11 great-grandchildren.
We would like to thank the staff of Village Shalom, Evergreen Hospice Care, Dr. Donald Cohen, Rabbi Jeffrey Shron, Rabbi Herbert Mandl, Rabbi Daniel Rockoff, Rabbi Benzion Friedman and Rabbi Mendy Wineberg for their kindness and care throughout the years.
Online condolences may be left for the family at www.louismemorialchapel.com.
Arrangements by The Louis Memorial Chapel, 816-361-5211.