Schwartz, Miriam L.
Published: Thursday, 03 November 2016 10:00
Written by KCJC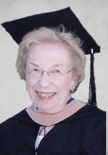 Miriam L. Schwartz, born in Des Moines, Iowa, and a longtime Kansas City resident, passed away on Oct. 31, 2016. She was a wonderful wife, mother, grandmother and great grandmother and friend.
Miriam was born Feb. 15, 1927, the daughter of Meyer and Anne Levine. She grew up in Des Moines and attended the University of Minnesota upon high school graduation. She married Al Schwartz in 1947 after meeting him in Minnesota while she was a student. They were married until Al's death in 2000. Miriam and Al had three children, three grandchildren and seven great-grandchildren.
Miriam and Al owned a Ben Franklin store in Des Moines, Iowa, for 25 years before moving to Kansas City in 1969 where she and Al opened a Ben Franklin store in Parkville, Missouri. They owned and operated that store until 1976. At that time, Miriam went to work for Rothchilds clothing store as an office manager. In the mid-1980s she accepted a position at Weeks Thomas Law Firm as the office manager. She completed her Bachelors of Arts degree at Avila University in 1986. She then became employed at Evans and Mullinix as the office manager where she billed and managed the office for several attorneys. She retired from Evans and Mullinix when Al became ill.
After Al's death in 2000, Miriam returned to Avila University. One of her greatest accomplishments was receiving her MBA at the age of 80. Unhappy with retired life, she began work at Johnson County Community College around 2001 as the coordinator for students with disabilities in the JCCC testing center. She was proud to be currently employed at the college and worked until the day before she died. 
Miriam loved her family and was loved very much by her friends, family, colleagues and students. She was survived by children Layla Horan, Daniel (Joanne) and Lori (Jon Goodwin); her adored granddogs Mystic and Magic, dear grandmother of Brian (Meg), Aaron (Molly), Rebecca (Matthew) Pearson; dearest great-grandmother of Martin, Eliza, Ethan, Jonah Schwartz, Maximillian Pearson, Nick and Gavin Corral; loving sister of the late Joe (the late Nancy) Levine, the late Delores (the late William) Ginsburg, Stanley (Maryann) Levine. 
Funeral services were set to take place Wednesday, Nov. 2, at Louis Memorial Chapel; followed by interment at Mount Carmel Cemetery. Memorial contributions preferred to Wayside Waifs, 3901 Martha Truman Road, Kansas City, MO 64137 or Congregation Beth Shalom, 14200 Lamar, Overland Park, KS 66223.
Online condolences may left for the family at www.louismemorialchapel.com.
Arrangements by The Louis Memorial Chapel, 816-361-5211.