Allen J. Block Scholarship awarded to two UMKC students
Published: Thursday, 21 December 2017 12:00
Written by KCJC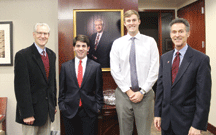 Block Real Estate Services, LLC (BRES) and the Lewis White Real Estate Center of the University of Missouri – Kansas City recently announced Jacob Greenbaum and Nick Auer as the recipients of the Allen J. Block Scholarship Award.
The Allen and Gloria Block Family Foundation created the scholarship endowment to support students at the Bloch School of Management wishing to pursue a real estate career. The fund awards one or more scholarships every year to prospective recipients who demonstrate noteworthy accomplishments such as community service, extracurricular activity, commitment to a career in real estate and a GPA of at least 3.0.
Jacob Greenbaum has his bachelor's degree in business administration with an emphasis in finance and a minor in economics from Millsaps College in Jackson, Mississippi. After graduation, he worked for Coldwell Banker Commercial TEC Realtors in New Orleans, Louisiana, before enrolling in the Master of Entrepreneurial Real Estate at the University of Missouri-Kansas City. Greenbaum is expected to graduate in May of 2018. 
Nick Auer in pursuing two bachelor's degrees from the University of Missouri – Kansas City. He is working on a Bachelor of Business Administration with an emphasis in real estate and finance and a Bachelor of Science in accounting. During his breaks from school Auer interned for WaterWalk Hotel Apartments as a real estate analyst as well as PricewaterhouseCoopers (PwC) as an assurance intern. Nick is expected to graduate in December of 2018.