Lindenlaub Bat Mitzvah
Published: Thursday, 14 December 2017 12:00
Written by KCJC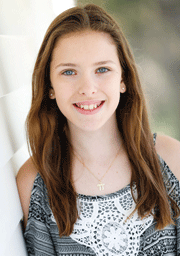 Adam and Debbie Lindenlaub announce the Bat Mitzvah of their daughter, Hannah Riley Lindenlaub, at 10:30 a.m. Saturday, Dec. 23, at The Temple, Congregation B'nai Jehudah.
Hannah is the granddaughter of Mark and Trudy Slatkin of Overland Park, Kansas, and Russ and Paula Lindenlaub of Rolla, Missouri.
Relatives and friends are invited to worship with the family and to attend the Kiddush luncheon following the service.