Mandelbaum Berg Engagement
Published: Thursday, 09 November 2017 12:00
Written by KCJC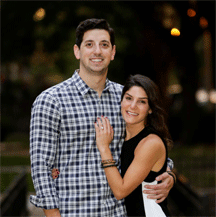 David and Jody Berg of Owings Mills, Maryland, announce the engagement of their daughter, Nicole Jaye Berg, to Aron Michael Mandelbaum, son of Mark and Ellie Mandelbaum of Naples, Florida.
The bride-to-be is the granddaughter of Gerald and Elayne Berg of Baltimore, Maryland, and Mark and Cecelia Eisenberg of Baltimore, Maryland. She graduated from The College of Charleston with a Bachelor of Arts degree in communication studies. She is currently employed as a broker for Cushman & Wakefield's Retail Services Group in Chicago, Illinois, and specializes in landlord representation/product leasing throughout Chicago. She is a member of Commercial Real Estate Women (CREW), Young Real Estate Professional (YREP-DC), International Council of Shopping Centers (ICSC) and Mid-Atlantic ICSC Planning committee.
The future groom is the grandson of Jack Mandelbaum of Naples, Florida, the late Shirley Mandelbaum, and Charles and Marie Rauh of Naples. He earned a Bachelor of Science degree in architectural engineering with an emphasis in mechanical engineering from the University of Kansas, is a licensed professional engineer and is pursuing a master's degree in business administration at DePaul University Chicago. He is currently employed as a mechanical engineer specializing in HVAC design and project management at WMA Consulting Engineers, Ltd. in Chicago.
Some of his recent noteworthy projects include Google's new Chicago headquarters at 1K Fulton, McDonald's global headquarters in downtown Chicago and the new Magellan Development and the Wanda Group's Vista tower in Lakeshore East.
A Dec. 1, 2018, wedding in Miami Beach, Florida, is planned.