Krigel earns doctorate from Gratz College
Published: Thursday, 07 September 2017 10:54
Written by KCJC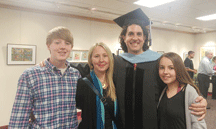 This summer Kansas City native Eliyahu Krigel completed his dissertation and graduated from Gratz College with a Doctorate in Jewish education.
Since 2015, Krigel has been director of education at Herzel-Ner Tamid, a Conservative congregation in Mercer Island, Washington. From 2006-2008 he served as dean of students at Hyman Brand Hebrew Academy.
Krigel is passionate about transforming the teacher and student learning process into a dynamic collaboration and engaging the community into becoming life-long Jewish learners.
He lives in Seattle, Washington, with his wife Shanti, and children Isaiah and Kaela.