Okun Klein Engagement
Published: Thursday, 03 August 2017 10:00
Written by KCJC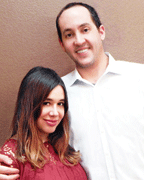 Michael and Milly Okun of Plano, Texas, announce the engagement of their daughter, Heather Okun, to Daniel Klein, son of Dena and the late Russell Klein of Kansas City, Missouri. 
The bride-to-be is a graduate of the Kansas City Art Institute and is an art director at JCPenney's corporate headquarters in Plano, Texas. She is also an amateur filmmaker, having written and directed short movies and acted in several independent films. She is the granddaughter of the late Herman and Florence Schanker of Kansas City, Missouri, and the late Max and Edith Okun of Prarie Village, Kansas.
The future groom is a graduate of the University of Kansas and University of Texas School of Law and is a financial services and real estate attorney in Dallas. He served as a sergeant in the Marine Corps Reserves, deploying to Iraq and Afghanistan. He is the grandson of the late Bernard and Rose Strum, of Long Island, New York, and of the late Eugene and Doris Klein, of Kansas City, Missouri.
The couple will reside in Dallas.