Myers Jacobs Engagement
Published: Thursday, 27 April 2017 14:56
Written by KCJC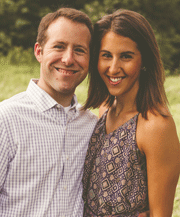 Allison and Alan Myers announce the engagement of their daughter, Rachel Erin Myers, MD, to Bradley Michael Jacobs, son of Cyndie and Alan Jacobs.
The bride-to-be is the granddaughter of Celia Sher and the late Sylvester Sher and the late Lois and Samuel Myers.
She is a graduate of Blue Valley North High School and earned a Bachelor of Science degree in biology from the University of Wisconsin-Madison as well as a Doctorate of Medicine from the University of Kansas School of Medicine. She is currently a resident in the Department of Anesthesiology and Pain Management at the University of Texas Southwestern Medical Center. 
The future groom is the grandson of the late Shirlee and Victor Siegel and the late Maryon and Joseph Jacobs. He also graduated from Blue Valley North High School. He earned a Bachelor of Liberal Arts and Sciences degree in political science from the University of Kansas and is employed as a senior associate with the CIM Group.
The couple currently reside in Dallas. A Sept. 3 wedding is planned at the InterContinental Kansas City at the Plaza.