70th anniversary Bar Mitzvah celebration
Published: Thursday, 01 December 2016 10:00
Written by KCJC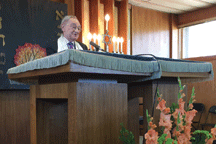 Herb Friedson celebrated the 70th anniversary of his Bar Mitzvah at the Lawrence Jewish Community Congregation on Nov. 19 at morning services by leading the congregation in prayer and chanting the entire weekly Torah portion. Friedson reported that it took him six months of daily work to prepare but readily admitted that his wife Martha was instrumental in ensuring he adhered to this practice schedule.
"She would tell me, 'You better not get behind,'" he said. "She was by my side every step of the way as I practiced daily during the entire six-month period."
When asked what motivated him to celebrate the 70th anniversary of his Bar Mitzvah in this way, Friedson responded, "I have lived to the age of 83 in relatively good health. I'm thankful for that. This is my way of expressing thankfulness by repeating an event that occurred 70 years ago."
In some personal comments to the congregation at the end of worship, Friedson noted that the Torah portion was different than the one he chanted 70 years ago (November 1946) at his grandparents' small Orthodox synagogue in Cleveland, Ohio, because of the difference between the Jewish calendar and the secular calendar.  
Friedson noted other significant differences in the two ceremonies as well. He took great pleasure in the fact that instead of his elders, his children and grandchildren were among those in attendance, as well as countless friends he has made as an active member of the Lawrence Jewish Community Congregation for almost 50 years. Friedson also noted a difference in the way he studied and practiced for his Bar Mitzvah the second time around. 
"Seventy years ago, my teacher was a very learned man who instructed me on the Bar Mitzvah and the way I had to chant the passages from the Torah," he said. "This time, my cantor recorded the passages very slowly and succinctly, so I could get on the computer and repeat the passages along with the recording. The passages are intricate and complicated. It's not like learning to sing a pop song."
Susan Elkins, president of the Lawrence Jewish Community Congregation, joined Friedson on the bima and thanked him on behalf of the Lawrence congregation and the Jewish community at large. Elkins remarked that it was at this point in the service that she usually presents the Bar Mitzvah with a gift from the congregation and then encourages him to continue the study of Torah and the practice of Judaism.
"But today," said Elkins, "the tables are turned in that we have a Bar Mitzvah who has spent the last 50 years as a role model demonstrating to us precisely what a 50-plus purposeful commitment to Jewish tradition, justice and compassion looks like." 
Born in Cleveland in 1933, Friedson studied enameling at the Cleveland Institute of Art with Kenneth Bates, the preeminent leader of the American enameling field, from 1955 to 1958. After receiving his BFA 1958, Friedson moved to New York where he work as a textile design consultant from 1960 to 1964. In 1965, Friedson moved to Lawrence  to pursue his MFA at the University of Kansas and was awarded his degree in 1967. Upon graduation, he was invited to teach jewelry, metals and freshman design at KU. He continued there until 1974 when he decided to leave teaching and focus on his artwork. Friedson's enamels have been featured in many important regional and national exhibitions and he continues to live and work in Lawrence.
Celebrating the 70th anniversary of his Bar Mitzvah along with Friedson were his wife, Martha Taylor, children Melissa Standridge (Richard) and Ira Taylor (Brenda), and grandchildren Duncan Standridge (Kaitlin), Claire Standridge, Sergio Standridge, Clint Standridge, Anna Standridge and Quentin Standridge.