Hammer Bat Mitzvah
Published: Thursday, 24 November 2016 10:00
Written by KCJC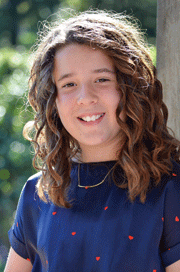 Daniel and Sylvana Hammer announce the Bat Mitzvah of their daughter, Illiana Hammer, at 9 a.m. Saturday, Dec. 3, at Kehilath Israel Synagogue.
Illiana (Illy) is the granddaughter of Susan and the late Steven Hammer and Dr. Benjamin and Anna Maria Lichtiger. She is the great-granddaughter of the late Jean Hammer and the late William Hammer of Kansas City and the late Pearl Dulsky and the late Gilbert Dulsky of St. Louis, Missouri.
The Kehilath Israel congregation, relatives and friends are invited to attend services with Illiana and her family, and to attend the Kiddush following the service.