Rissien Wedding
Published: Thursday, 25 August 2016 10:00
Written by KCJC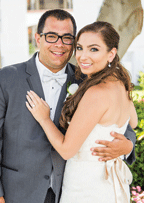 Brittany Blair Silberman and Matthew David Rissien were married Sunday, July 17, at the Omni La Costa Resort in Carlsbad, California.
The bride is the daughter of Steven and Cindy Silberman of Buffalo Grove, Illinois. She is the granddaughter of Beatrice Silberman of Northbrook, Illinois, and the late Daniel Silberman, and the late Harriett and Jerome Drazner.
The groom is the son of Aaron and Shelley Rissien of Overland Park, and the grandson of Tibby Rissien of Overland Park and the late Samuel Rissien, and the late Bessie Stein-Fish and Meyer Stein.
The maid of honor was Mallory Silberman of Buffalo Grove. The best man was Marc Kingston of Leawood.
Bridal attendants were Molly Rissien, Chicago, Illinois; Rebecca Katz, Overland Park; Tamara Gredell, Minneapolis, Minnesota; Baylee Grover, San Francisco, California; and Meagan Pagano, Buffalo Grove.
Groomsmen were Jordan Leboyer, Chicago; David Katz, Leawood; Matt Wagster, Denver, Colorado; Justin Cosner, Leawood; and Josh Breger, Chicago.
The ring bearer was Samuel Katz of Overland Park.
After a mini-moon in Scottsdale, Arizona, the couple has made their home in Buffalo Grove.