Mayer Benjamin Engagement
Published: Thursday, 16 June 2016 10:00
Written by KCJC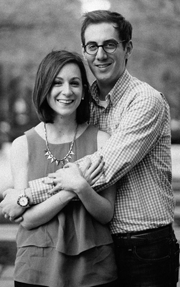 Vicky and Howard Mayer of Leawood, Kansas, announce the engagement of their daughter, Madeline Elyce Mayer, to Jay Garrison Benjamin, son of Judy and David Benjamin of San Antonio, Texas.
Madeline, who lives in Overland Park, Kansas, is the granddaughter of Golda Mayer of Leawood and the late Ernest Mayer, as well as the late Marilyn and Richard Wasserman. The future bride earned her bachelor's and master's degrees from Brandeis University in Waltham, Massachusetts. She is a senior account executive at GlynnDevins in Overland Park. 
Jay, also of Overland Park, is the grandson of Sylvia Masur of Monroe, Louisiana, and Jerome and Diane Benjamin of Dallas, Texas, and the late Jerry Bernat and Naomi Benjamin. The future groom, who's originally from San Antonio, holds a bachelor's degree from the University of Kansas in Lawrence. He is a strategy analyst with Utility One Source in Kansas City, Missouri.
Madeline and Jay will be married on Nov. 20, 2016, at the Kemper Museum of Contemporary Art in Kansas City, Missouri.