60th Wedding Anniversary
Published: Thursday, 16 June 2016 10:00
Written by KCJC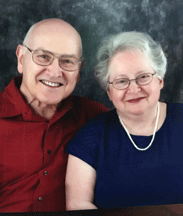 Jack and Irma Katz will celebrate their 60th wedding anniversary on Friday, June 24.
After living in the Kansas City area for 11 years, they moved to Buffalo, New York, in 1975. Jack and Irma returned to the Kansas City area in 2002 to be with their children and grandchildren.
The family will celebrate together in December when they can all be together. Family members include their children, Mark and Jill Katz, Kansas City, Missouri; Eric and Miriam Kaseff, Leawood, Kansas; grandchildren, Erin Katz and Tom Pascall, Newcastle, Australia, Hanna Katz, Boston, Massachusetts, Rachel and Lainie Kaseff, Leawood, and great-granddaughter, Evie Pascall, Newcastle, Australia.