Gold Bar Mitzvah
Published: Thursday, 09 June 2016 10:00
Written by KCJC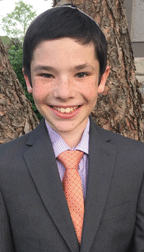 Daniel and Brodie Gold announce the Bar Mitzvah of their son, Jacob. Jacob will have his Bar Mitzvah at the Kotel in Israel on Thursday, June 9.
A second service is planned for Saturday, June 18, at Chabad of Leawood. 
Jacob is the grandson of Barbara Herman of Leawood, Kansas.
Relatives and friends are invited to worship with the family on June 18.