Kirschenbaum Sander Engagement
Published: Thursday, 12 May 2016 10:00
Written by KCJC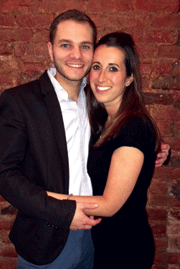 Linda and Jeff Sander of Overland Park announce the engagement of their daughter, Jennifer Lauren Sander, to Michael Aryeh Kirschenbaum, son of Aileen and Ben Kirschenbaum of Plainview, New York.
The bride-to-be is the granddaughter of Mary and the late Arnold Parnes and Shirley and the late Sam Sander. She attended Washington University where she earned Bachelor of Arts degrees in international and area studies and women and gender studies. She also earned a master's degree in public health from Columbia University and is currently employed as a junior research associate at WG Group, a division of Greyhealth Group in New York City.
The future groom is the grandson of Judith and the late Joseph Shindler and the late Reszi and Max Kirschenbaum. He attended Yeshiva University, where he earned a Bachelor of Arts degree in biology. This month he will receive his Doctor of Medicine degree from Albert Einstein College of Medicine and will begin a psychiatry residency this summer at the Zucker Hillside Hospital of Northwest Health in Glen Oaks, New York.
An Aug. 28 wedding at Hempstead House in Sands Point, New York, is planned.