Newman Honor
Published: Thursday, 12 May 2016 10:00
Written by KCJC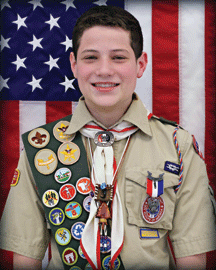 Ethan Newman, 15, a Boy Scout in Troop 10,  was awarded the rank of Eagle Scout, the highest rank in Boy Scouts at a Court of Honor held May 1.  
For his Eagle project Ethan chose to give back to Congregation Beth Shalom. His project consisted of building a mobile little library to be used in the Rose Family Early Childhood Education Center, a book drive to fill the library and organizing the preschool storage room. The extra books collected were donated to Operation Breakthrough. He follows in his father's footsteps as an Eagle Scout.
Ethan is a freshman at Blue Valley West High School and is the son of Neil and Cathy Newman. He is the grandson of Peter and Beverly Newman and Harry and Janice Shopmaker.