Rieber Bar Mitzvah
Published: Thursday, 05 May 2016 13:54
Written by KCJC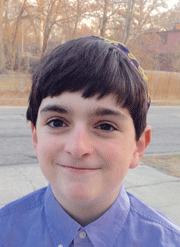 Suzy and Rabbi Moti Rieber announce the Bar Mitzvah of their son, Joey, at 9:30 a.m., Saturday, May 14, at Congregation Beth Shalom.
Joey is the grandson of Merna Siegler and the late Sylvan Siegler of Kansas City and Maxine and David Persons of Boynton Beach, Florida.
Relatives and friends are invited to worship with the family and to attend the Kiddush lunch following the service.