Stras Maslan Engagement
Published: Thursday, 05 May 2016 13:48
Written by KCJC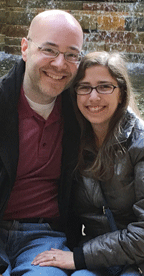 Stephen and Toba Maslan of Overland Park, Kansas, announce the engagement of their daughter, Sarah Maslan, to Daniel Stras, son of Andrea Stras of Wichita, Kansas, and Simon Stras of Salt Lake City, Utah.
The bride-to-be is the granddaughter of Betty Brand and the late Arthur Brand and the late Leon and Sarah Maslan. She attended Bradley University, where she earned a bachelor's degree in psychology. She is a patient account representative at St. Joseph Medical Center in Kansas City, Missouri.
The future groom is the grandson of the late Malvina and Walter Stras and Leonard Goldstein and the late Ivonne Goldstein. He is self-employed as an IT consultant.
A Sept. 4 wedding at Overland Park Convention Center is planned.