Silverstein Krigel Engagement
Published: Thursday, 10 March 2016 12:00
Written by KCJC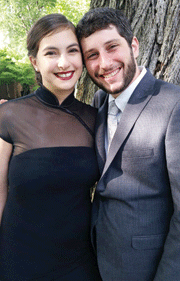 Scott and Dr. Susan Krigel of Leawood, Kansas, announce the engagement of their son, Steven Krigel, to Ilana Silverstein, daughter of Drs. Nina and Irwin Silverstein of Needham, Massachusetts.
The bride-to-be is the granddaughter of Edward and Surrie Melnick. She attended Denison University where she earned Bachelor of Arts degrees in dance and environmental studies. She earned a Master of Fine Arts degree in dance from The George Washington University.
The bride-to-be is currently an artist in residence with Georgetown Lombardi's Arts and Humanities Program.  A modern dancer and choreographer in the Washington, D.C., area, she also works with BodyWise Dance and with The Field, a national nonprofit artist service organization based in New York City.
The future groom is the grandson of Jeanette Wayne. He earned a Bachelor of Arts degree in psychology from McDaniel College. He is a registration specialist at Laureate International University. He is also the resident sound designer at Singe Carrot Theatre, an ensemble theater company in Baltimore.