Written by KCJC
Parent Category: Celebrations
Category: Recent Celebrations
Published: 30 October 2014
Hits: 73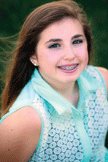 Brian and Karen Cole announce the Bat Mitzvah of their daughter, Hannah, at 9:30 a.m. Saturday, Nov. 8, at Congregation Beth Shalom.
Hannah is the granddaughter of Robert and Nita Levy and Judson and Lana Cole.
Relatives and friends are invited to worship with the family and attend the Kiddush following the service.