Thursday, May 17 2012 09:21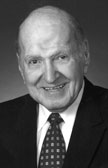 Stuart Alan "Dodo" Levinson died on Friday, May 11, 2012, at the age of 91.
Funeral Services were held at the Emanu El Cemetery in Houston on Sunday, May 13. Pallbearers were Stuart Jacobson, Jake Levinson, Josh Novorr, Michael Novorr, Ken Persky, Jay Peters, Adam Siegel and William Spitz. The family requests that donations be made in Stuart's memory to the Jewish Family Service of Houston, or a charity of your choice.
Stuart was born across the street from the old Tiger Stadium in Detroit on Oct. 29, 1920, to Lew and Blanche Levinson. His early years were filled with a passion for chemistry, singing and horseback riding. He attended Wayne State University in pursuit of a science degree. His education was interrupted by World War II, when he enlisted and served in the Pacific Theater under General Douglas MacArthur. Stuart spent the war on Guadalcanal, New Guinea and finally the Philippine Islands.
Following the war, he completed his undergraduate work at Wayne State, obtaining degrees in chemistry, music and geology. In an undergraduate geography class, he met a beautiful and very bright student, Sylvia Spector, who became the love of his life. With his new bride, Stuart continued his education at Washington University in St. Louis where he obtained a master's degree in geology and a Ph.D. in paleontology.
Stuart knew he wanted to apply his paleo knowledge to oil exploration and Houston was, even in the 1950s, the oil capital of the world. Humble Oil and Refining Co. (Exxon) was creating a research department and Stuart went to Houston determined that he would be a part of it. He was hired on the spot and the Levinson family became official Texans. Stuart remained at Exxon for 35 years.
Stuart helped develop the science of paleontology as a methodology for discovering the presence of oil. He was a an active member of the Society of Economic Paleontologists and Mineralogists, the Paleontological Society, the American Association of Petroleum Geologists and the Geological Association of America. As a founder of the Gulf Coast Section of the Society of Sedimentary Geology, Stuart was awarded its Distinguished Service Award.
Early on, Stuart recognized the impact that personal computing was about to have on the world and he was responsible in large part for pushing Exxon into that frontier. He was given one of IBM's first personal computers to beta test and he subsequently became fluent in the day's computer languages. He actively wrote oil exploration-related programs used by not only Exxon, but other major oil companies throughout the world.
Following his passion for science, Stuart became immersed in the study of wine and winemaking. He became a respected teacher on the subject in venues throughout Houston, including the JCC where his classes were always full and fun. It allowed him to apply his knowledge of chemistry and geology to explain in simple terms to his students the effects of soil, climate and the chemistry of converting grapes into wine and spirits.
Stuart was a longtime member of Congregation Emanu El and chaired the religious school committees of both Emanu El and the Houston Jewish Federation.
He is survived by his wife of 65 years, Sylvia; sister Shirley Goldstrom of Detroit; son Larry and wife Gail Levinson, son Rick and wife Lynne Levinson of Austin, and daughter Vicki and husband Keith Novorr of Kansas City; grandchildren, Dana and Ken Persky, Amy and Adam Siegel, Michael Novorr, Josh Novorr and Jake Levinson; and great-grandchildren, Bryan and Jason Persky and Ethan Siegel.