| | | | |
| --- | --- | --- | --- |
| Longtime friends open Taste of Europe in Overland Park | | | |
Written by Heather Swan, Contributing Writer
Thursday, May 03 2012 11:00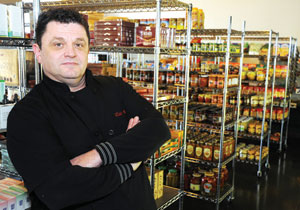 Take a look around Taste of Europe and you will see some of the foods that Gene "Geno" Basov enjoyed while growing up in Ukraine. In one corner of the 2,200-square-foot store are candies from Russia and Ukraine. Keep walking and you will see the soft drinks and lemonade he liked as a child. And then there's the canned fish and meats that Basov and other Europeans are familiar with from their youth and homeland.
Taste of Europe, a specialty grocery store at 13378 Metcalf Ave. in south Overland Park, brings European foods and delicacies to the Kansas City area. Basov and his business partner, Marat Tsitolovsky, opened the store in mid-November and have been adding products ever since.
Customers have been coming in and requesting certain foods, and Basov doesn't give up until he finds what his customers want. English tea, crackers and cheese? Taste of Europe now carries those. Sausage and candy from Poland? Yes, the store has those, too. Duck fat, truffle oil and truffle salt for French cooking? Check; you can find them at Taste of Europe.
These specialty items are in addition to everything else at Taste of Europe: meat products (Jewish salami, sausages and franks, for example), dairy products (a variety of cheeses and sour cream), fish (smoked fish and herring, to name a few), over 70 varieties of teas and coffees, jams and preserves (including Israeli jams), spices, sauces, ready-to-cook products, kosher juices, baked goods and pastries, breads, crackers, cookies, pickled vegetables, canned goods and more.
Taste of Europe carries items from Russia, Ukraine, Israel, Poland, Germany, France and other European countries. It also sells some kosher products, but Taste of Europe will stock more as people request them. The store uses three different slicers — one for meat, one for cheese and one for fish — and different knives are used for meat, cheese and fish as well.
The store is perfect for people who are looking for the European foods and delicacies that their parents and grandparents served them growing up.
"I enjoy dealing with people and taking them back to their childhood … down memory lane," Basov said.
Customers can buy European food not found in a traditional grocery store at Taste of Europe. The store also appeals to customers who want to try new foods or to vegetarians looking for different meat-free options.
Before Taste of Europe, people would have to travel to the East or West coasts of the United States, Chicago or Europe to find many of these foods and delicacies. Basov said "it was like a calling" to bring these types of products to the Kansas City area and open a store like Taste of Europe.
Basov and Tsitolovsky were friends as teenagers in Ukraine and both eventually came to the United States and settled in Kansas City. Basov immigrated to the United States in 1980 when he was 18 years old, and he worked as an assistant manager of a large grocery store in New York for a while. Tsitolovsky emigrated from Ukraine in 1990.
Basov has owned Geno's State Line Shoe Repair (now located at 1164 W. 103rd St. in Kansas City, Mo.) for 24 years. And he and his wife, Helen, own Uniforms & More at 1156 W. 103rd St. and are members of The Temple, Congregation B'nai Jehudah.
"I don't think it's hard work," said Gene Basov, of owning Taste of Europe along with his other business endeavors. "It's making your childhood dream come true."
For more information about the grocery store, call 913-402-8500. You can also find Taste of Europe on Facebook. The store is open from 10 a.m. to 8 p.m. Mondays through Fridays, 10 a.m. to 7 p.m. Saturdays and 11 a.m. to 6 p.m. Sundays.