| | | | |
| --- | --- | --- | --- |
| A memorable meeting with a personal hero | | | |
Written by Bonnie Nussbaum Mannis, Special to The Chronicle
Thursday, April 26 2012 11:00
Yesterday I met my pen pal of more than nine years. After the death of my father Sam Nussbaum, z"l, in December of 2002, my mother and I were looking at his files of saved paper clippings and correspondences and we came across a letter sent to my father in April of 1989. It was sent to him by Max Garcia, an architect in San Francisco. They shared something very special in common. They were both liberated on May 6, 1945, from the Ebensee Labor camp in Ebensee, Austria. They were liberated by the "F" Company of the 3rd Cavalry Reconnaissance Group commanded by Gen. George S. Patton, Jr.
I called Mr. Garcia and introduced myself and asked if my father ever responded to his letter. He said he did not. He mentioned that he was in close contact with some members of the 3rd Cavalry. He gave me the name of one member in particular, Mr. Robert Persinger, who lives an hour west of Chicago. I was elated. Although my father chose not to pursue any communication with Mr. Garcia and others who he may have met through him, I decided that I wanted to and that I needed to contact them. I could actually speak to someone who was there on the eventful day. I could speak to someone who saved my father.
In January 2003 I made the call to Mr. Persinger. It was a very emotional moment for me. As it turns out, Mr. Persinger was a platoon sergeant and tank commander. His tank was the first one into the camp. The following are words he spoke at the 60th Anniversary Memorial Service at Ebensee, Austria, on May 6, 2005: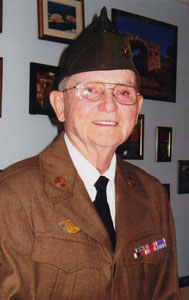 "As we approached on the gravel road to the camp we saw masses of human beings that appeared almost like ghosts standing in mud and filth up to their ankles behind the high wire fence. They were dressed in filthy striped clothes and some in partial clothing barely covering their bodies. They appeared so thin and sickly, it was evident that they were starving. Their bodies were just skin and bones. We stopped our tank and observed for a period of time trying to decide what we would do with the mass of prisoners surrounding our tanks. Both tank crews were hesitant to accept or to make contact with these poor starving individuals. None of us had ever seen human beings in this terrible situation before. We started to toss rations and energy bars to them until our supply was depleted. At first we refused to dismount and wade through the quagmire of mud and around all of the dead bodies. Besides that the stench of all of the dead bodies made it almost unbearable. We had seen terrible sights from combat across Europe but what we were observing was a climax to the things that human beings do to their fellow man. It was beyond anyone's imagination that such horrible crimes could be committed.
"The Army medical hospitals arrived quickly along with other Army quartermaster units to provide services to get the prisoners on the road to recovery. We stayed with them and helped them for two weeks to nourish them before we received orders to return to the States and prepare for invading Japan with Gen. Patton and his Third Army."
Mr. Persinger was invited, along with other WWII veterans, to accompany the 2012 March of the Living group that traveled to Poland on April 16. This is the first time the organizers asked veterans to accompany the group. For the 25th time, a group of young Jewish adults on this march will see and hear from survivors and other eye-witnesses what the Nazis did to European Jewry not that long ago. They must bear witness to the atrocities. We must never forget. The world must never forget.
I was honored to personally meet Mr. Persinger and his son Allen as they arrived at JFK airport from Chicago before leaving on the March. We went to dinner and once again I listened to this gentle and humble man relate his memories of that day and how it changed his life. Those memories are etched in his mind forever.
For years we have spoken on the phone and emailed one another. I have sent him gifts every Christmas as a very small token of my family's appreciation to him for his service to his country and to the survivors whom he directly saved. Unbeknownst to him, he and his comrades helped my father and the other survivors restore their hope in humanity. As I have told him many times over the years, there is a saying in the Talmud which states that "…whoever saves a life it is considered as if he saved an entire world." (Mishnah Sanhedrin 4:5 Babylonian Talmud Tractate Sanhedrin 37a). He saved my little world.
When I finally met Mr. Persinger, I cried to him. I hugged him. I thanked him over and over again for saving my father and so many others.
But, I miss my biggest hero, my Dad. This thank you was for you Dad.

Bonnie Nussbaum Mannis grew up in Kansas City and is the daughter of Elizabeth Nussbaum and the late Sam Nussbaum. She is a member of the first graduating class of the Hyman Brand Hebrew Academy. She now lives in Scarsdale, N.Y.