| | | | |
| --- | --- | --- | --- |
| Fundraiser to help polish the gates of Sheffield Cemetery | | | |
Written by Gloria Gale, Special to The Chronicle
Thursday, April 26 2012 11:00
"Huddled amidst a crowd of sorrows, the solemness of sending a soul on its journey deserves the utmost respect."
— Anonymous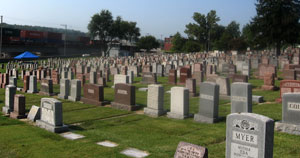 For more than 100 years, Sheffield Cemetery has remained steadfast. Nearly 6,000 people are buried on the property dating from 1901; making it one of the oldest Jewish cemeteries in Kansas City. But by 2003, visits to the cemetery revealed Sheffield was a shadow of its former self, crumbling in disrepair, including no formal chapel and, in its entirety, grounds in dire need of restoration. It was apparent that the monetary commitment for perpetual care of the grounds and chapel was not enough to maintain the cemetery with today's struggling economy.
In response, a dedicated group of community volunteers culled from several congregations came together in 2003 to form the Friends of Sheffield. Together, they recognized that the souls buried there deserved a dignified resting place and pledged to restore, beautify and maintain the property.
Rickie Haith, president of Friends of Sheffield Cemetery, said the organization's mission encompasses maintaining the property in a manner aligned with Jewish ethics and pride.
"Therefore, a capital campaign fund initiated in 2003, governed by a seven-member executive committee and board of directors, decided to seek $1.25 million in support. This community endeavor established a restricted fund at the Jewish Community Foundation of Greater Kansas City to receive and distribute monies specifically for this purpose," Haith said.
The plan to raise funds and beautify the cemetery is divided into three phases: $250,000 for restoration of the cemetery grounds; $500,000 beautification, including renovation of the chapel; and $500,000 for perpetual maintenance of the entire cemetery grounds and chapel.
"Pledges have been received and we have made major changes in preserving and restoring the cemetery grounds, but we have not met our goal to renovate the historic chapel. The chapel has not been in use for 20 years," Haith said.
To date, Friends of Sheffield have greatly improved the grounds with the engagement of a professional lawn company, new landscaping, updated irrigation system, trees trimmed, World War II Memorial restored, debris and refuse cleared for additional burial sites, new cement walks and stairs replaced the broken ones that were a safety hazard, gravestones aligned, restored wrought iron gates, and additional new hand railings to make the cemetery more accessible.
"There's significantly more to be accomplished," Haith said.
Responses to the cause have elicited deep emotion.
"My father and mother both passed during wintertime. Each service had to be held outside in the bitter cold as the chapel at Sheffield was unusable. It's important to have the chapel restored so everyone has a place to gather for services," says board member Shirley Unell.
Jackie Kraft, another member of the Friends of Sheffield board, often thinks of the phrase "thy people shall be my people; thy God, my God ...." when she visits the cemetery.
"My late husband Jacob Paul Kraft's grandparents, Genashe and Yakov Kravchenko, both of blessed memory, had been the caretakers from about 1910 to 1914 — undeniably, this cemetery holds a very tender and special place in my heart, as it does for so many."

Chapel to benefit from one-man show

To adequately address the cause of renovating the chapel, a benefit is planned featuring Kansas City, Kan., native and acclaimed film and TV actor Ed Asner.
Asner is taking a particular interest in this benefit because members of his family, including his beloved parents, are buried in Sheffield.
"Sheffield is our family plot. It is really the only cemetery that comes to mind when I think of the past and those who were near and dear to me. I am truly honored to be doing my one-man show of FDR to raise necessary funds for the restoration of Sheffield. Hopefully, this benefit will help restore Sheffield respectfully and honor it in a manner it deserves," Asner said.
Over the past few years, Asner has been traversing the country garnering rave reviews with his poignant and often humorous portrayal of the heroic war-time president.
The 82-year old Emmy award and Golden Globe award-winning actor's career spans six decades. He is perhaps best known as the loveable curmudgeon on television shows "Mary Tyler Moore" and its spin-off "Lou Grant." Young and old alike may recognize his voice as that of Carl Fredricksen in the Academy Award-winning 2009 Pixar animated film "Up."


Asner's one-man show 'FDR' set for June 17
Ed Asner's one-man performance of "FDR" is set for 7 p.m. Sunday, June 17, at the White Theatre on the Jewish Community Campus.
General admission tickets are being sold for $36 a seat. Those who make donations of $360 or more will be invited to attend a gala reception which Asner will attend following the performance.
Checks should be made payable to Friends of Sheffield, JCF. The memo line note should read Asner Benefit. [The organization is a 501 (c)(3) fund.] Mail checks to: Ed Asner Benefit, c/o Barbara Cosner, 9839 Briar Street, Overland Park, KS 66207.
Donations to the Restoring Honor Campaign are also being accepted. To learn more how you can make a difference, contact Friends of Sheffield President Rickie Haith at This e-mail address is being protected from spambots. You need JavaScript enabled to view it .
Asner flexes his considerable range when he portrays Franklin Delano Roosevelt, recounting the story of the former president's life relayed through a series of personal anecdotes. Based on Dore Schary's Broadway play "Sunrise at Campobello," "FDR" is a show that reflects on the iconic president's years in office.
The script tackles FDR's heroics and consequences of his battle with polio, journey to the presidency, controversial packing of the Supreme Court, his marriage to Eleanor and his affair with Lucy Mercer. The play also examines Roosevelt's manipulation of Congress to acquire the draft, breaking the Neutrality Act and controversy surrounding Pearl Harbor.
"FDR" is the ideal role for Asner who jokingly refers to himself as "Hollywood's resident communist." The actor actively champions for such causes as wildlife conservation, autism awareness and Racism Watch.
"We are proud to host Ed Asner. He honors not only his own family but countless members of the Jewish community who treasure this sacred landmark. By attending the performance and pledging a donation, you honor everyone with one of the highest values in the Jewish tradition, Kavod Ha'Met, honoring the deceased. That is truly a mitzvah," Haith said.