Written by Barbara Bayer, Editor
Thursday, April 26 2012 11:00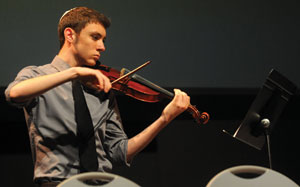 SAVING TORAHS — Last week we told you that funds have been set up to help victims of the recent tornado in Wichita. We neglected to tell you a great human-interest story we heard from Eileen Garry. She has a good friend in Wichita and she called him last week to make sure all was well with him following the stormy weather. Her friend, 90-plus-year-old Mel Shaffir, informed her that he, and his Conservative synagogue Ahavath Achim Hebrew Congregation, were OK. He told her that just in case the synagogue was in the path of tornadoes, members took the precaution of placing the synagogue's Torahs in a portable ark that Mel crafted himself years ago, and then moved the ark with the Torahs in it to the basement. Shaffir was thrilled that the members protected the Torahs.

HELPING VICTIMS PART 2 — In addition to the Mid-Kansas Jewish Federation, our local Jewish Federation is also collecting funds to help with the disaster recovery and rebuilding, in the wake of nearly 100 tornadoes that struck hundreds of homes and workplaces in Kansas Saturday, April 14. Although no Jewish institutions were damaged by the tornadoes, the local Jewish community in Wichita was deeply impacted by the storms' destruction. Some Jewish community members live in or near the path of the tornadoes, and an employee of Ahavath Achim Hebrew Congregation lost her home, cars and most of the family›s personal belongings. Funds raised in KC will go to the Mid-Kansas Jewish Federation in Wichita, which is working with the Salvation Army to provide immediate help throughout the community and aid for long-term rebuilding. Last year, through the Jewish Federation network across North America, Jewish Federation of Greater Kansas City and Jewish Federation of St. Louis raised more than $250,000 to help Joplin tornado victims. To make your online donation, go to jewishkansascity.org, and click on the Wichita Tornado Relief link. Contact Gail Weinberg, director of financial resource development, at 913-327-8123 to make your donation via phone, or send in a check to Jewish Federation of Greater Kansas City, 5801 W. 115th Street, Suite 201, Overland Park, KS 66211, Attn: Wichita Tornado Relief Fund. One hundred percent of donations to this fund will go directly to helping tornado victims.

RENOVATING THE MIKVAH — The Kansas City Community Mikvah is currently being renovated and modernized and funds are currently being raised to pay for it. Mikvah USA is providing a grant that will match all funds collected, up to $50,000. Ayala Zoltan Rockoff said even though the renovations are not yet complete, the mikvah already looks more beautiful. "We anticipate reopening in several weeks. We are inching closer to our financial goal for this grant, but are not there yet. Making sure that we reach this amount will ensure that the mikvah does not incur a deficit for completing these important updates." She said the fundraising deadline to receive matching grant money is May 1.
The mikvah is truly a community institution, and is used by all denominations of Jewish Kansas City for conversions, ritual immersion, brides, tours and the immersion of utensils before use in kosher homes and catering facilities. The mikvah is maintained by volunteers with support from Kehilath Israel Synagogue, but receives no operating funds from the synagogue. Besides funds for the renovation, money is needed to pay for regular cleaning, maintenance, supplies and important repairs. The mikvah is a 501(c)(3) organization, so donations are tax-deductible. Make checks payable to the Kansas Mikvah Association and mail to: Jessica Kalender Rich, treasurer, Kansas Mikvah Association, 9747 Slater, Overland Park, KS 66212.

ANOTHER MEDIA STAR — Hyman Brand Hebrew Academy junior Slater Sousley is featured as an up and coming teen in the most recent 435 South Magazine. The magazine notes that Slater has displayed his art at HBHA art shows and entered work in the RAVSAK National Jewish Art Contest. Last summer, at the age of 16, he was approved for early admittance for adult art classes at the Kansas City Art Institute.
Last Updated on Thursday, April 26 2012 11:36